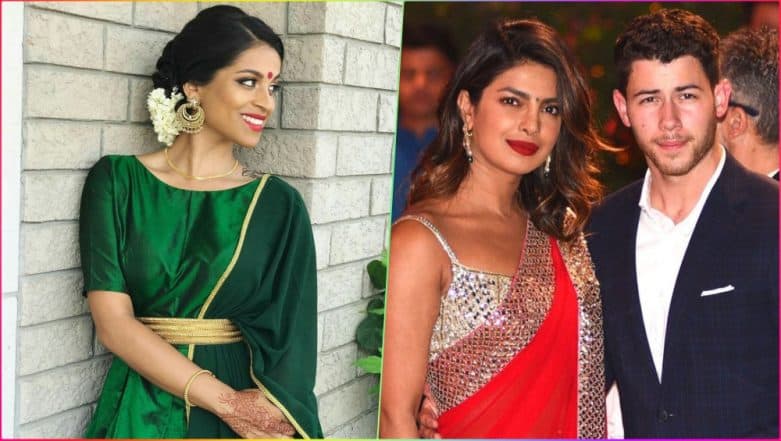 Canadian YouTuber, comedian, actress, and public speaker Lilly Singh aka IISuperwomanII is in India! Yes, the Punjabi kudi (she is Indian descent, duhh) is visiting the country and for a very special reason. Yes, yes, yes, Lilly is attending Priyanka Chopra and Nick Jonas' wedding in Jodhpur. She is reported to be among the first international guests to have flown in to be at NickYanka's high profile marriage ceremony. Superwoman is a close friend of both PeeCee and Nick after collaborating with the duo for videos on her channel. Priyanka Chopra-Nick Jonas New Family Tree: Indian Actress Is Going to Be Third Eldest Family Member After Her In-Laws!
Jodhpur has been trending on Twitter the entire Thursday after the couple headed off to the blue city early morning. As per reports, mehndi and sangeet ceremony is going to take place on November 29. And joining NickYanka and their families are couple's best friends. Lilly Singh, actress Yasmine Al Massri and actor Jonathan Tucker who has worked with Nick in Kingdom are all present. But let us talk about Lilly's connection with Priyanka and Nick. Priyanka Chopra and Nick Jonas Wedding Schedule: Hindu and Church Wedding Dates, Mehndi and Sangeet Ceremonies, Reception and Venue Details of NickYanka's Marriage!
Priyanka and Lilly had first collaborated for the latter's video titled, How to Be a Good Wing Woman in 2016. This video was released as a part of Christmas special and had created quite a buzz, especially for Indian fans as they got to see their favs depicting such 'Girl Love' in the video. The fabulous women continued to remain friends and were next seen together in a hair product commercial. As for Lilly knowing Nick, the 26-year-old was a guest on Superwoman's video named When You Catch Your Boyfriend (ft. Nick Jonas). Take a look at the two videos of Lilly with Priyanka and Nick. Priyanka Chopra-Nick Jonas Age Difference: How Old Are the Indian Actress and Her Husband at the Time of Their Wedding?
Watch Video: How to Be a Good Wing Woman (ft. Priyanka Chopra)
Watch Video: When You Catch Your Boyfriend (ft. Nick Jonas)
Watch Video: Priyanka Chopra Saves Lilly Singh's Saturday Night
Not just these videos, Lilly has also uploaded funny BTS videos on her vlogs. You are going to fall in love with camaraderie the 30-year-old star shares with the handsome couple. We cannot wait to see videos and pics of Lilly channelising her inner Punjabi kudi at NickYanka's wedding.
Watch Video BLOOPERS: How to Be a Good Wing Woman (ft. Priyanka Chopra)
Watch Video: NICK JONAS SURPRISED ME AT MY HOUSE!!
Among the other international guests, one is expecting Hollywood biggie Dwayne Johnson to be at the wedding. The 46-year-old actor had joked about playing the role of Cupid and setting up the lovebirds as he worked with Priyanka in Baywatch and Nick in Jumanji. Interestingly, Dwayne happens to be Lilly Singh's celebrity crush and friend who has been a regular in her videos.
Lilly had recently left her fans and over 14 million subscribers on YouTube surprise by taking a break to focus on her mental health. She promised to return with a bang sooner than later but asked for love and support as she took the sabbatical to focus on her life. We are happy to see Lilly Singh prioritising her personal life just like she is in India to attend her BFFs wedding.