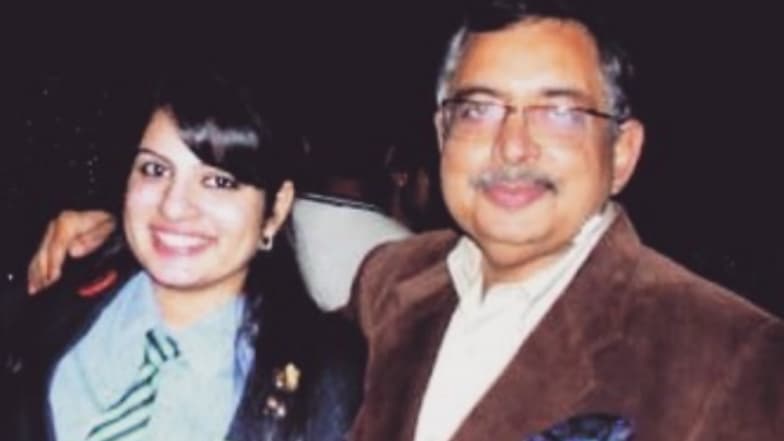 It came as a shocker for many when the veteran journalist Vinod Duo was hit by the #MeToo wave after a lady filmmaker accused Dua of sexual misconduct. It was reported that Dua once tried to slobber Nishitha Jain's face in a parking lot. In her Facebook post,Jain alleged Vinod Dua had sexually harrassed her when she had gone for an interview in 1989. The accuser also mentioned the incident when Dua spoke against actor Akshay Kumar for making a lewd comment on his daughter Malika Dua.
And now the social media star, so to speak, takes to Instagram to post this message that might look like a defence she is posing for her dad or more precisely she is simply standing by his side. "Heroes aren't made or broken overnight. #Papaji" goes the caption. This Video Explaining Consent Using a Cup of Tea Goes Viral During #MeToo Movement
Addressing allegations of sexual harassment against senior journalist Vinod Mallika Dua, has pledged solidarity with the #MeToo movement and says she will let him take up the fight. "If at all my father is truly guilty of what you described, it is unacceptable, traumatic and painful," Mallika said in response Nishtha Jain's allegation.
View this post on Instagram
Referencing Akshay Kumar's off-colour remark at Mallika on a comedy reality TV show that had enraged Vinod Dua, Jain put out a lengthy Facebook post on Saturday, calling out the media personality for his sexism from years ago.
She also named Mallika in her allegations.
Earlier Mallika had issued a statement on Instagram in response, asserting that Jain dragging her name into the controversy was "in terrible taste".
"I am in solidarity with the movement and in support of the voices but your dragging my name into this was in terrible taste," she said. The onus of the "battle" was not on her, Mallika said, adding that she would deal with the case in her way and on her time.
"This is not my battle to fight. It's not my responsibility or my shame or my burden. I will deal with this my way and on my time. Stop forcing women to give statements for your entertainment. "I stand with the movement and will not let its objectives, ideals and purpose be hijacked by the shamers. This is my dad's battle, I will let him fight it and I will stand by him," she said.
-With agency inputs