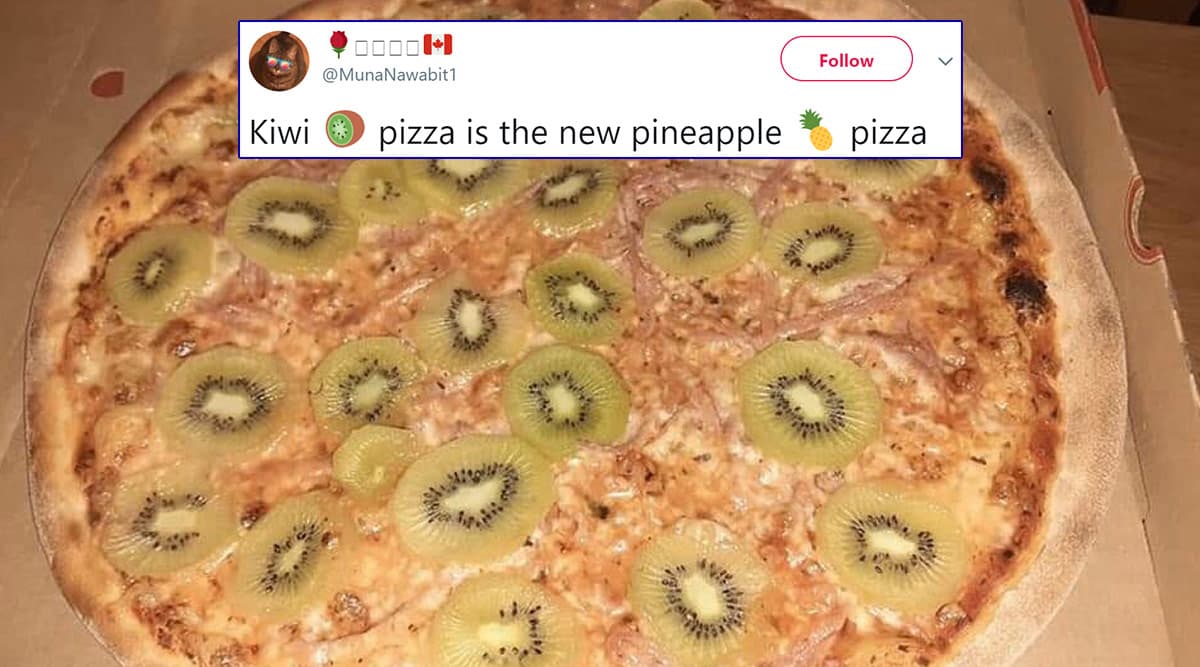 There is no stopping the weird food trends this year too! Just when people must've forgotten the pineapple the pizza or left that behind, a bizarre picture of Kiwi slices on pizza has come up online. This pizza was served at a Danish pizzeria. Why we wonder! A few netizens shared the picture on Twitter and needless to say, the pizza-lovers are furious. The debate on Pineapple on pizza just gets intense from here with Kiwi toppings making it on the pizza base.
Last year, Dominos launched a pizza with pineapple toppings called the Hawaiian Spaghetti Pizza. The pizza served with tinned Watties spaghetti, chunks of pineapple, ham and mozzarella cheese had everyone with divisive opinions about how it would taste. Now a Reddit user named nre1313 posted the picture of Kiwi slices on Pizza, calling it, "an unholy abomination". While fellow Redditors were not impressed, the picture soon made it on Twitter too. People were angry and wanted this picture to be just taken off!
Check The Picture of Kiwi Fruit on Pizza:
Pineapple Pizza?

Nah mate, Kiwi is the way. pic.twitter.com/lE5wxL3p4O

— Finn, bringer of Love ❤️🌻 (@TraaaashPanda) January 12, 2020
Kiwi, the New Pineapple?
Kiwi 🥝 pizza is the new pineapple 🍍 pizza pic.twitter.com/7VpTxRh5Ar

— 🌹ꪑꪊꪀꪖ🇨🇦 (@MunaNawabit1) January 12, 2020
What is That?
— Isaac 123 (@isahininjaland) January 12, 2020
Is it Possible?
How can I delete someone else's tweet?

— James DeleteStoneSpirits McCarthy (@YourMuthr) January 12, 2020
If Eyes Could Scream
My eyes are screaming and this is not ok

— 💙Reckless4800💙 (@Reckless4800) January 12, 2020
Don't Do It!
This is a travesty to pizza everywhere. pic.twitter.com/8BtODK4EUc

— PιɾαƚҽCαɳʋαʂ *Commissions Open* (@CanvasPirate) January 12, 2020
Going too Far!
— Christopher (@TheIrishonfire) January 13, 2020
Someone Save the Pizzas!
someone please save the kiwis from this pizza https://t.co/IRvy1STfK5

— 𝔡𝔢𝔳𝔦𝔩 𝔟𝔞𝔟𝔦𝔢 🕷 (@bIoodwh0re) January 13, 2020
Clearly, no one is impressed with this bizarre combo, until someone pointed out, there is a pizza with banana slices too. Yuck! Why? What are some people doing to the pizzas? Let us remind you, a few months ago, a picture of Gulab Jamun Pizza had gone viral on social media. Going by this recent mixture of most unlikely toppings on a pizza base, we might soon need to 'save the pizza' campaigns! What say?