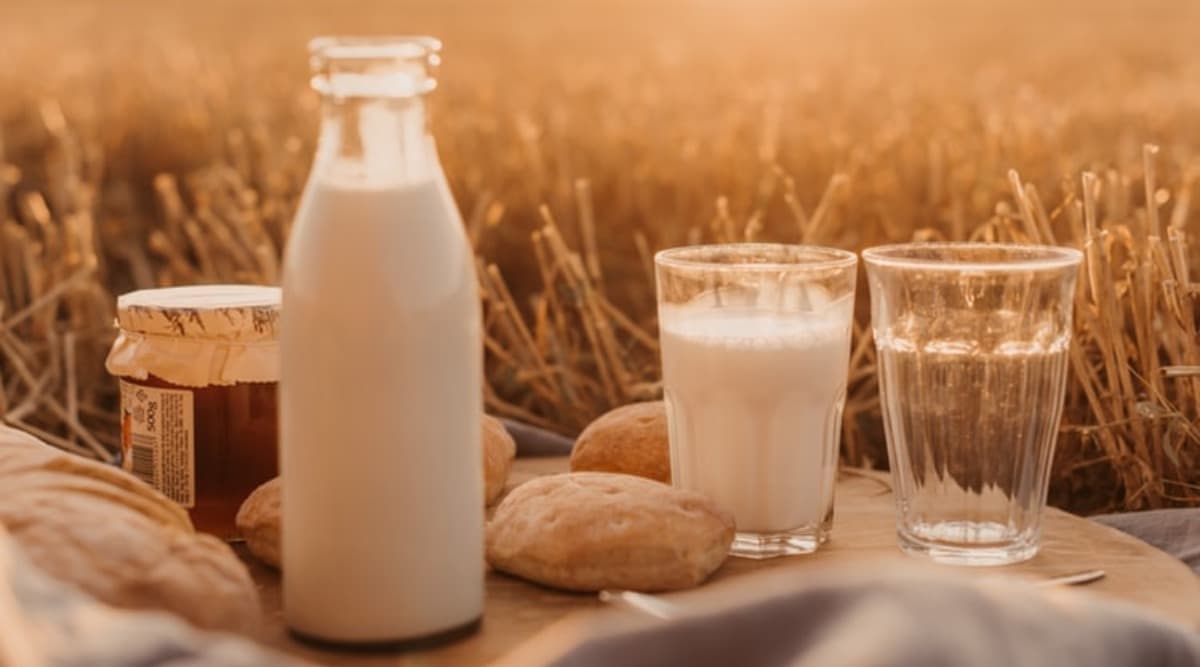 National Milk Day is observed on November 26 in India. It was established by the Food and Agricultural Organisation in 2014 when the National Dairy Development Board (NDDB), the Indian Dairy Association (IDA), along with 22 state-level milk federations agreed on this date. The day is observed to commemorate the birthday of Dr Verghese Kurien, who is considered the father of India's White Revolution. Various events and programmes are organised on this day celebrating the efforts of Kurien, which helped India become self-sufficient. Today, milk is widely consumed in India other than being used in a wide array of desserts and dishes. Milk products like ghee, paneer and yoghurt are quite popular in the country. As we observe National Milk Day 2019, we take a look at some fun facts about milk. Is Milk Safe for Diabetes? Find Out if Dairy Raises Blood Sugar Levels in Diabetics.
Milk is the best source of calcium for our body and is considered a complete food. To make this nutrient-rich food widely available to the people, Dr Kurien worked tirelessly towards making India self-sufficient in milk. Operation Flood is said to be the world's largest agricultural dairy development programme. It is not only the largest self-sustaining industry but also the biggest employment provider in rural areas. Milk is the only drink in the world that contains such a large range of naturally-occurring nutrients. While cow milk is widely consumed in India, goat's milk is the primary ingredient in cheeses like feta, caprino, gevrik, and rocamadour. Meanwhile, check out some facts about milk. Healthy and Delicious Ingredients You Can Add to Your Mil.
According to the Greeks, the milky way was created by milk drops from Hera, the wife of Zeus!

Humans are the only species on Earth that consumes milk from another animal.

It takes 12 pounds of whole milk to make one gallon of ice cream.

Most of the world's population cannot adequately digest milk due to lactose intolerance. Lactase Persistence, the ability of humans to digest milk as an adult is only found among Europeans and those with European ancestry.  A whopping 90 percent of Asians and 100 percent of Native Americans, have some degree of lactose intolerance.

UK dairy farmers produce 14 billion litres of milk each year.

A Holstein cow named Robthom Sue Paddy produced the greatest amount of milk in one year. It gave 59,298 pounds of milk in a day.

Al Capone, an American gangster, is responsible for expiration dates written on milk bottles. He fought to have "sell by" dates on the pack after one of his relative sell sick after drinking expired milk. However, it is also said that he was just looking for business by stamping the packets as it was under his control.
Verghese Kurien was born on November 26, 1921. His support was crucial in making, the 'Amul girl' ad campaign, one of the longest-running ones for decades. Kurien died at the age of 90, after a brief spell of illness on September 9, 2012, at a hospital in Nadiad, near Anand. He received several awards, including the Ramon Magsaysay Award, Wateler Peace Prize, World Food Prize, Padma Shri, Padma Bhushan and Padma Vibhushan.