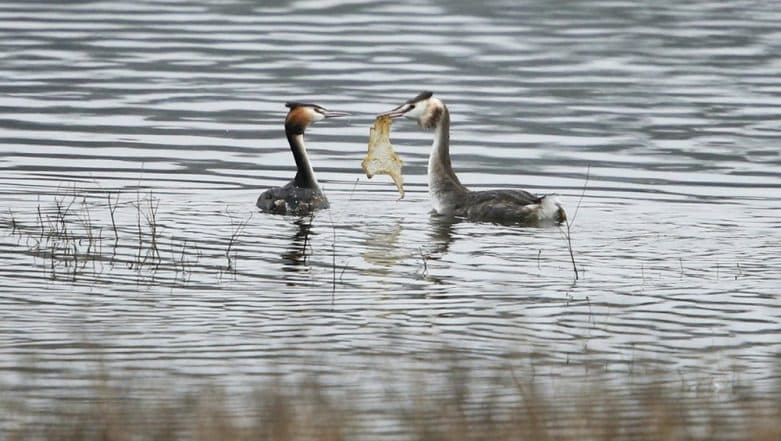 A photographer from Derbyshire has captured a picture that shows the perpetual problem of plastic pollution the planet is facing. A picture captured by Mary Wilde at Ogston Reservoir in Derbyshire shows a pair of crested grebes. But what is disappointing is the bird is seen holding a discarded piece of plastic, offering it to its partner. Birds have their own tricks of mating and impressing their partners. In what seems like a mating gift from one grebe to another, it is sad to see it holding a piece of our plastic waste. Wilde expressed this disappointing sight as "never seen anything like it before." Female Seal With Plastic Net Around its Neck at Norfolk Coast Spotted, Heartbreaking Pic Goes Viral.
Wilde is following photography as a hobby from a while and her image shows the impact of our plastic waste is having on our environment. She frequently visits the lake and observes the birds here. While describing this particular incident she was quoted to Daily Mail, "It's usually a beautiful sight. The birds dive down to offer each other bits of weed and flick their heads back and forth. It dropped the plastic back into the water afterwards. It was very sad and I thought it's a current issue with people chucking rubbish." Baby Turtle Poops Plastic That it Swallowed in The Ocean, Watch Shocking Video.
Check Mary Wilde's Picture of Grebes Holding a Piece of Plastic as a Mating Gift
@ChrisGPackham gc grebes displaying in Derbyshire. Sadly with an offering of plastic pic.twitter.com/nvev6sM4ys

— Mary Wilde (@yrammy) January 23, 2019
These great crested grebes are known for their elaborate mating rituals. These birds offer their partner something beautiful to win them. They also perform a small dance on the water surface and usually the weed that they offer is brought after diving deep down in the waters. It is indeed a shameful thing for us humans to see this bird carrying a plastic waste as something 'beautiful' for its partner.
Such discarded pieces of plastic may even result in choking of the birds or fishes in here. Microplastics have entered almost all the water bodies on the earth and even the remotest parts of this planet are polluted with plastic. Plastic waste has claimed so many lives of marine animals and it is almost impossible to get all the plastic off the earth's surface.