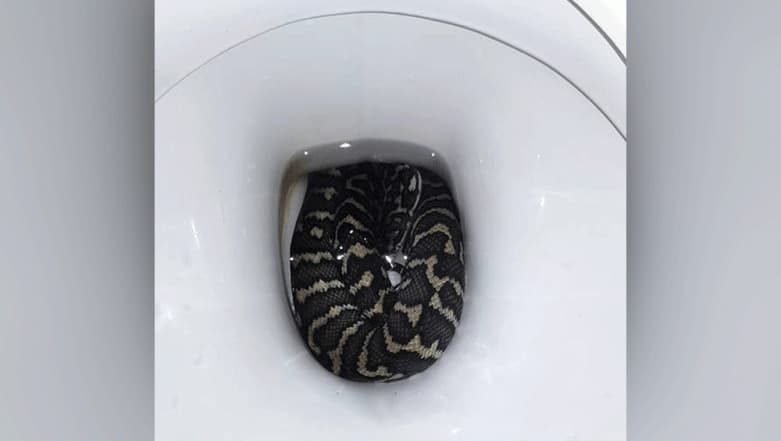 In a strangely horrific situation, a woman was bitten on the bum by a snake. The woman, Helen Richards, in Australia ended up calling a snake catcher at the middle of the night. Her late-night visit to the toilet cost her a snake bite from the snake that was hiding in the toilet commode. It was difficult for Helen to figure that it was a carpet python at first and assumed that it was a frog in the first place, however, she soon realised and had to call a snake catcher to get the snake out of there. Living in the Chapel Hill suburb of Brisbane, the woman called the sake catchers from Brisbane who then posted on their Facebook page calling the snake "A 'CHEEKY' VISITOR!" They described how on a Tuesday afternoon they received a call from the customer in Chapel Hill who was "quite embarrassed about needing to have the following discussion." Snake Bite and Boat Mishap Incidents to Get Compensation Under Disaster Relief List as UP Government Extends Ambit.
The snake catchers explained on their Facebook page that she went on to explain how "she went into the bathroom to go to the toilet, but did not turn the light on. "Mid-stream", she felt something bite her bottom!" They also explained why the snake must have bitten her. They wrote, "Unfortunately, the snakes preferred exit point was blocked after being spooked by the customer sitting down and it simply lashed out in fear. It showed no defensive behaviour after this point."
The post explains how calmly Helen acted and didn't flush the toilet to cause the snake to retreat down into the pipes again. However, they explained that "The snake was safely removed and relocated, and the customer handled the situation like an absolute champ, having a sense of humour about it the entire time."
Take a look at the picture of the snake in the water closet-
They snake catchers cautioned that if you find a Carpet Python in your toilet, "Don't poke and prod it, don't continue to flush the toilet. If you do these things it increases the chances of us not being able to access the snake if it retreats further into the pipe. Put the lid down, secure it, and call a snake catcher."