Violent crimes against animals including cats and dogs are increasing at an alarming rate. And the saddest part is that most of the cases are never reported. Hence, it is difficult to calculate just how common they are. Thanks to the animal rights groups and pet-loving netizens that such instances of cruelty are highlighted and brought to public notice. A recent horrific incident against a pet cat, which was flung from the 16th-floor balcony by an irate man, is going viral on Facebook. The incident highlights the urgency to monitor the animal exploitation cases strictly. Dog in Pakistan Wrapped in PTI Flag, Shot Dead; Ghastly Video Going Viral. 
According to a Facebook post, which was first shared by the People with Paws and Wings, an official page to raise awareness of the stray animals, a pet cat belonging to a certain Abdul Shaikh accidentally appeared at the accused Shivram Panchal's door on the 16th floor of the building in Thane. Seeing the feline, the man became furious. Panchal at first beat the Persian cat with a wooden stick and eventually threw it outside from the 16th-floor passage window. The housemaid who is the sole witness of the incident, struggled to stop him, but failed to rescue the cat. Bestiality in Washington: Man Sexually Assaults Dying Beaver, Police Arrested Him for Animal Cruelty. 
The cat, falling from such height, reportedly died. An FIR was launched against the Panchal. The maid identified as Lalita bravely narrated the entire tragic incident in front of the police.
The FIR Launched Against Panchal
FIR Launched Against Mr Panchal (Photo Credits: @peoplewithpawsandwingsHom/ Facebook)
The Mumbai-based organisation informed that the complaint was launched under Section 429 of the Indian Penal Code (IPC) and Animals Cruelty Act 11(A) and all the further proceedings are on. But a recent report in TOI stated that Panchal is out on bail, on account of being a senior citizen.  Three Men Had Sex With Horses, Cows, Goats & Dogs for Five Years Faces 1,400 Charges of Beastiality at Pennsylvania. 
The Detailed Complaint Launched Against Mr Panchal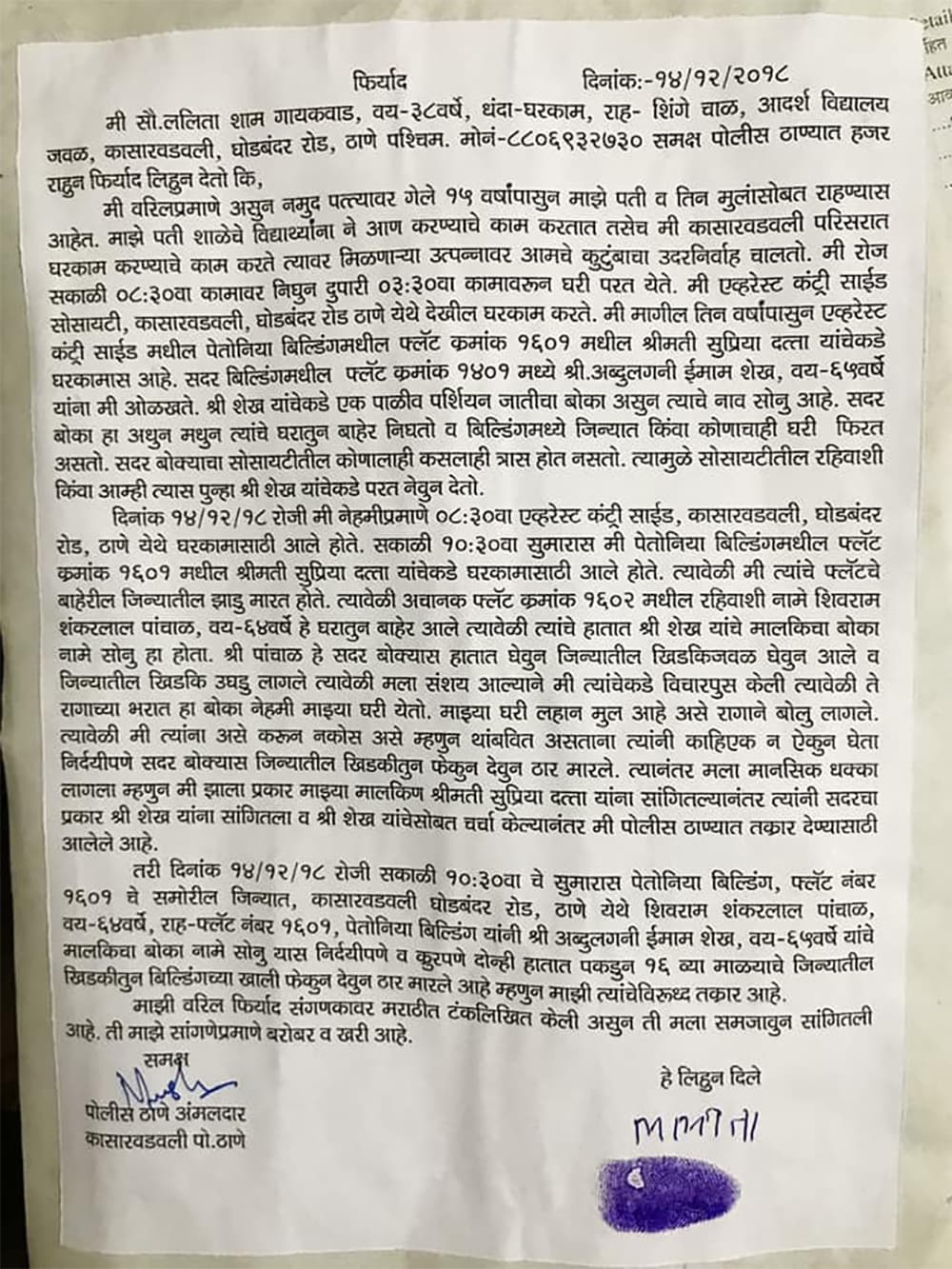 FIR Against Mr Panchal (Photo Credits: @peoplewithpawsandwings
Bringing an act of animal torture into the spotlight through social media incites a host of questions. Angry netizens shared the post over 2,000 times so far (still counting), naming and shaming the man. Some even went on to share Panchal's Facebook profile urging the users to report him. It won't be wrong to say that this is one incident out of many which have been happening regularly but are not brought to notice. A lack of empathy is not the only issue but witnessing and not reporting the cases also become hurdles.
(The above story first appeared on LatestLY on Dec 17, 2018 12:13 PM IST. For more news and updates on politics, world, sports, entertainment and lifestyle, log on to our website latestly.com).