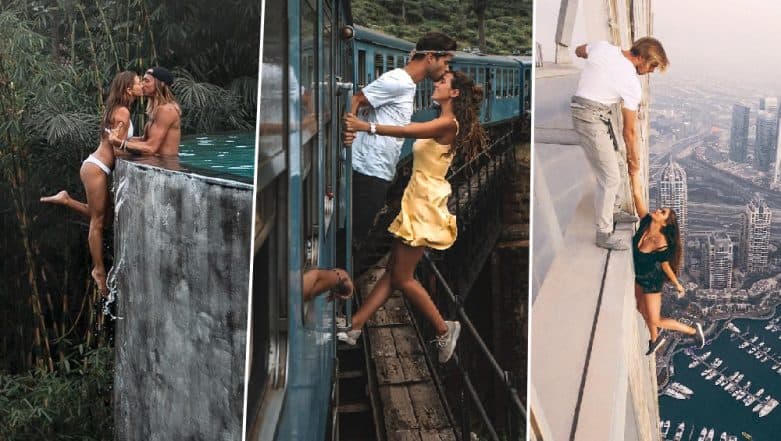 It would not be wrong to call it the time and age of 'likes and comments.' With the increasing popularity of photo-sharing network Instagram, the fight for getting the perfect pictures continues. Instaworthy has become a newly coined adjective to describe the parameters of a photo. From a social media platform, Instagram has become an active medium of earning for many. Travel bloggers and fashion influencers have been giving career goals to many. And people have been doing everything, including risking their lives, to have an edge over others. Travel bloggers especially have gone so overboard with their seemingly perfect and dreamy pictures; while they garner all likes, they also invite criticisms in the comments. The most recent case is of travel blogging couple Kody and Kelly who posted a picture from Indonesia. The picture had Kelly hanging by the cliff of an infinity pool in Ubud. It has been criticised by many. 'Holidays and Happily Ever Afters' Couple Who Fell to Death From Yosemite National Park Left These Beautiful Instagram Pics to Remember Them Forever.
Kelly and Kody have justified the pic by saying they were super cautious while clicking the picture and that they both exhibited that trust in each other to make it possible. Well, that's an impressive way of exhibiting couple goals, but it is definitely worth wondering if their followers might want to try out similar shots. Looking For Perfect Instagram Picture? Model Gets Shark Bites While Photoshoot.
Kelly and Kody's Picture in Indonesia
View this post on Instagram
Kelly and Kody, however, are not the first ones to be in this position. With increasing competition in the field, each blogger has to try out something unusual and appealing to their audience. Unfortunately, being extremely risky has been a part of the job for some.
Instagrammers Who Went Overboard to Click Their Perfect Picture
Hanging by a Moving Train
View this post on Instagram
Raquel and Miguel, a travel blogging couple which boasts of more than 2.4 lakh followers on their handle Exploresaurus_ put up a picture of themselves dangling outside a moving train in Sri Lanka. The couple posted a picture which saw Miguel kissing Raquel on her forehead as they stood at the doors clutching the rails of the train. Also, Raquel's one feet was in the air as the train moved over a bridge on the train route in Ella region of Sri Lanka. The picture was taken by a third person. It was heavily criticised by everyone for taking such a risk, that too atop a bridge. The boyfriend was called irresponsible by many for putting his girlfriend's life at risk. The couple said that the train was  moving very slowly and they were extremely safe at the time of clicking it.
Posing Front of Moving Train
Singapore resident blogger Patricia better known as Oneoceanaway_ on Instagram also took moving train in Thailand as an object in her photo. Patricia stood in the middle of the tracks of the famous Maeklong Railway Market, in Thailand. The picture also showed other tourists clicking the oncoming train just beside the tracks. She too was at the receiving end of criticism when she uploaded this picture last year. She deleted the picture later.
Hanging by Building Edges
View this post on Instagram
Russian model Viki Odintcova who has close to 5 million Instagram followers dangled off a tall skyscraper in Dubai. She was held by one hand by a male assistant without any kind of gear. The picture went crazy viral but also received a lot of negative comments. In fact, Viki herself admitted that she was very nervous while doing that stunt. "I still cannot believe that I did it. Every time I watch this video, my palms get sweaty," was her reaction to her own viral picture. Famous 'Bikini Hiker' Gigi Wu Freezes to Death on Her Solo Hike in Taiwan.
Most Dangerous Selfies
View this post on Instagram
Russian girl Angela Nikolau is a self-proclaimed risk taker. She is known for taking the most dangerous selfies. Not just selfies, but even her other pictures are just as risky as she seeks adventure all the time. From the edge of a rooftop, a high-rise building or a mountain top, she has been there all. She can balance herself on foot while she stands at these risk points. Her pictures are death-defying in every sense. But she's an experienced climber, her 50 million followers, however, may not be. She gets criticisms every now and then but by now people know she takes risks for her living! Are You Instagramming Your Food Pics? Social Media May Be Promoting Unhealthy Eating Habits.
These are some of the famous Instagrammers who have gone to extremes to get their 'perfect' shots. While they may take the safety precautions, they need to realise that there are over thousands of followers they are appealing to. An extremely good picture at an exotic location will prompt the viewer to visit or recreate it for themselves at some point, and that is where the Instagrammer is successful to influence. But at the same time, the job comes with a lot of responsibility towards all the followers. The most perfect pictures must be coming with a lot of risks and one must ensure they make their viewers aware about it as well. To conclude, one cannot risk their own influence in the name of perfection.