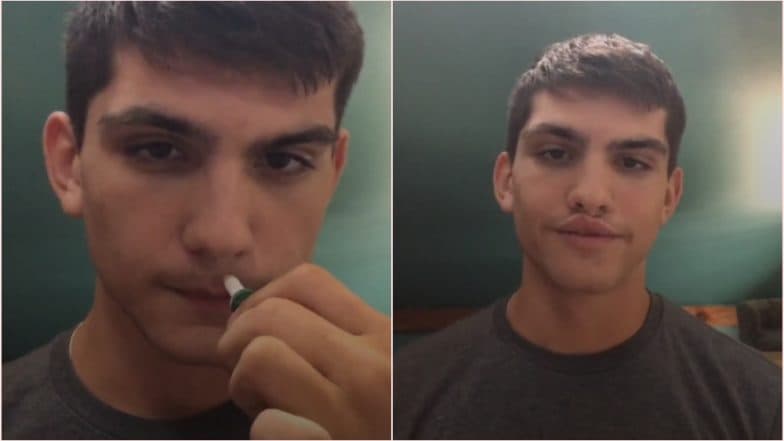 TikTok users are never bored on any hour of the day. Their Sundays are not gloomy, Mondays have no blues and Fridays are for much more motivations than you could imagine. The videos appearing on the app, soon becomes a thing! Now the recent trend is witnessing users glueing their upper lips, well, to make them look fuller. The videos are going viral insanely. It shows the internet's obsession with big lips, if they are not blessed with them naturally. The videos of social media users glueing their upper lips to make them look fuller have taken over the internet. And the clips are not just limited to TikTok. They have even reached to Twitter and Facebook and netizens cannot seem to get enough of it. How to Trick Your Toddler into Eating Fruits and Vegetables: TikTok Mom's Hilarious Hacks Are What Every Parent Needs!
Getting a lip job done has been prevalent beauty trends across the world. With actors and many known personalities, undergoing lip augmentation has been the top choice. And not all of us can afford the surgery. The prices can range between USD 500 to 2000. But we can have other options. That is precisely what TikTok users are schooling the people online. They are glueing their upper lip to make it appear to look bigger and poutier! US Student Jacob Pina's Unusual Five-Inch Thumb Stuns the Internet, Check Out Viral TikTok Videos of the Rest of His Hand. 
According to online witnesses, the viral trend was started by TikTok user @chloehammock4. In her video, she applied glue just above her cupid's bow and then sticks her upper lip up to make them look fuller. She then compliments her transformation with a lipstick. The video has received more than four million views and people online everywhere are happily participating in the lip filler game.
Here's the Video:
People Happily Participates!
So I did that lip trick where you glue your lips with eyelash glue and I'm scared. pic.twitter.com/mhWTR48BQZ

— Jorge (@jorgeeloficial) September 11, 2019
Oh No!
i used nail glue instead of eyelash glue because it wouldn't work and ugh my lips are stuck pic.twitter.com/0YlwTIbjSc

— 𝕒𝕤𝕙𝕝𝕖𝕪 🕸 (@okokolzanskii) September 11, 2019
Try it Out
We must say, we are so impressed by the creativity of people online. While some of the above outcomes appear funny, others have some major secret beauty tip to reveal. This new lip trend is tame and will not give you the scary bruising. How about trying it, on your next date?