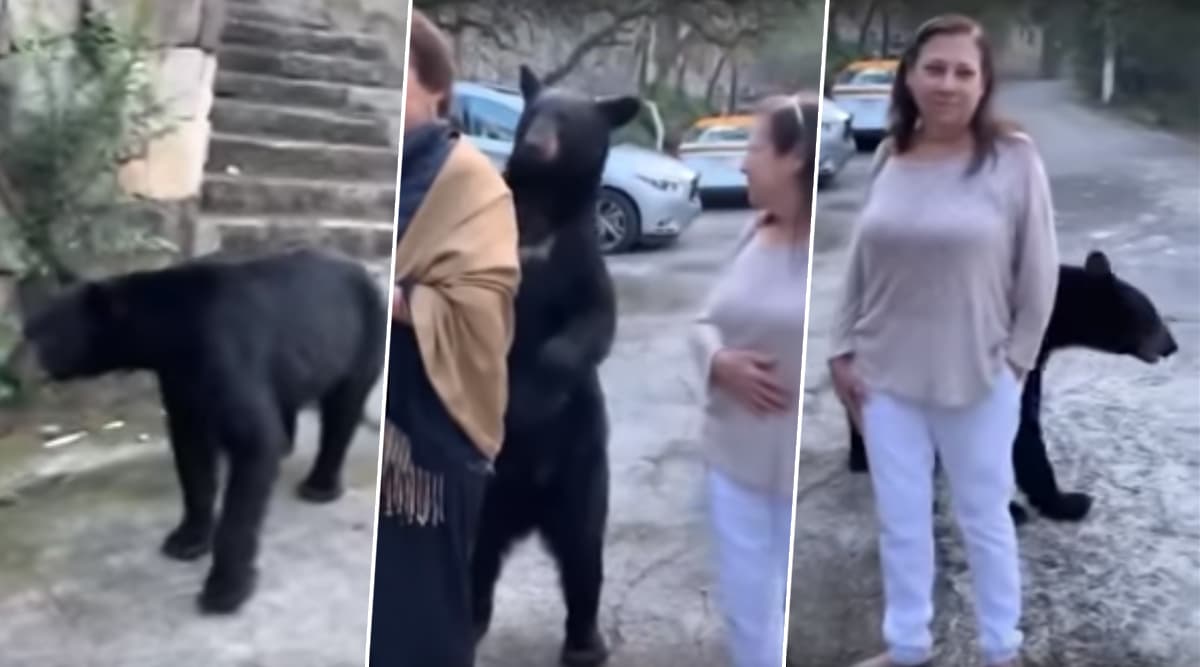 A video going viral on social media platforms shows a black bear stroking the hair of a woman. Visitors at the ecological park in northern Mexico were shocked to see the furry animal being extremely friendly with humans. The incident was recorded at Chipinque Ecological Park located in Monterrey on Saturday. The video shows two bears hunting for food near trash cans a little away from the park visitors. Gradually, one of them comes near the people and walks around, while the other bear continues to look for food. Bear Family Enters US Man's Car and Tries to Drive It, Photos Go Viral.
The video shows the black bear strolling around the people and then stands upright. The animal then goes ahead to stroke a woman's hair. The bear then turns towards her and sniffed her clothes trying to tap her leg, but she moved away. While wild bears are dangerous in nature, these animals look extremely friendly towards humans. They seem to be used to seeing people on a daily basis. However, it is advisable to not go near wild bears. They often attack humans in search of food. Wild Bear Opens Woman's Car Door in Rhode Island, Terrifying Pictures From Narragansett Go Viral.
Wild Bear Strokes Woman's Hair at Chipinque Ecological Park:
As the video went viral Santa Catarina Civil Protection took to Twitter sharing tips for park visitors if they encountered bears. The notice reads, "Don't come near them, don't bother them and keep food away. Don't feed them or throw food at them, and please don't hit them,' the notice said." It also warned tourists at Chipinque Ecological Park not 'to photograph or video record them' and asked them not to leave any waste behind.