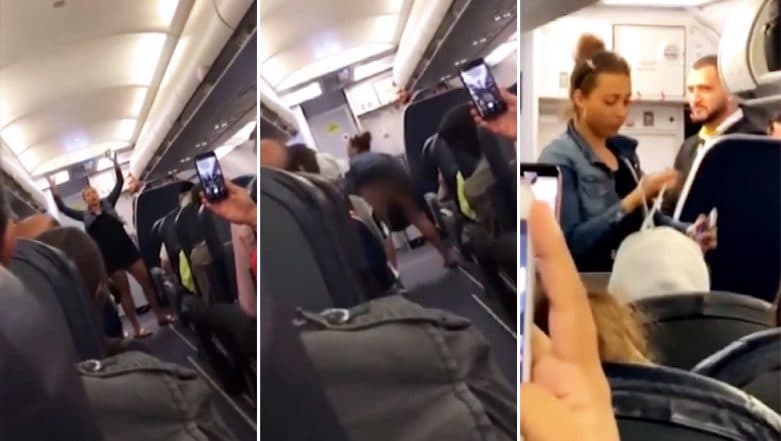 Crazy incidents onboard have become way too common these days or is it just the social media platforms that are helping us know more about them? Whatever the case may be this recent incident that is going viral on social media makes no sense at all. An unidentified woman was allegedly drunk created a ruckus on a Spirit airline flight from Orlando to Newark and didn't just stop there. In fact, she went ahead to flash her buttocks while twerking onboard. She began arguing with a flight attendant, and many passengers recorded her unhinged rant, and as soon as she noticed all the cameras she yelled: 'Record all you f***ing want!' She didn't stop there and in fact, went ahead to reveal her butt while twerking on the flight leaving a cheering plane while she was escorted off the plane. All this because she was asked to power down her cellphone before takeoff. Flamingo Walks on Runway Slowing Down an Airplane at Spanish Island; Funny Video Goes Viral.
The video of her went viral in no time. Her use of profanity can be clearly heard as she calls a woman off-camera 'p***y a** ho.'
Take a look at the video:
At the end of the clip, the woman was escorted out of the flight after she grabbed her stuff from the overhead bin. While she walked off the plane the cabin erupted in cheers. We have seen many other such viral videos wherein ruckus-creator is seen misbehaving with the cabin staff doing their duty. The misbehaviour goes upto an extent of spitting at the cabin crew. Sometimes it is believed that such action is sometimes curated by passengers to go viral on social media, while some believe otherwise, what do you think?