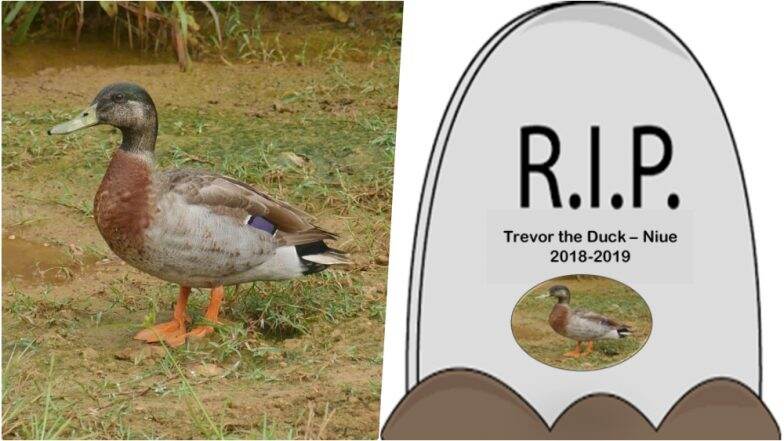 Trevor, the Duck, is no more. Dubbed as the 'World's Loneliest Duck,' Trevor passed away on last week in Niue Island, where it has been residing since 2018. He was no less than a celebrity for the locals of Pacific Island of Niue. For them, he was a 'very cool duck.' As a matter of fact, Trevor had his very own Facebook account. So, when he died after being attacked by a dog, the admin of his FB page posted an obituary for the island's celebrity bird. Nigel, 'The Loneliest Bird' Dies Surrounded By its Concrete Friends; Conservationists Mourn Loss.
The heart-breaking post for Trevor's death reads, "What a sad way for the journey of Trevor the Duck - Niue to end. He flew/blew to Niue in a storm about a year ago, chose to live in The Puddle by the side of the road, won the hearts of so many locals and tourists, he became a global celebrity and promoter of Niue. Taken too soon by a dog. Rest in Peace Trevor - you were a very cool duck!"
RIP Trevor, The Only Duck Living in Niue
Among the notable ones who are offering condolences to 1600-inhabitant strong population of Niue is Trevor Mallard, the speaker of the New Zealand House of Representatives. The New Zealand politician writes, "Deepest sympathy to the people of Niue from the Parliament of New Zealand."
The chief executive of the Niue Chamber of Commerce, Rae Findlay, said it was a 'sad time for Niue.' "He captivated the locals, of which there are only 1,600 in Niue, and the 9,000 visitors to Niue each year," Findlay told the Australian Broadcasting Corporation Sunday.
It is still unclear how Trevor landed on the island of Niue, which is not an ideal habitat for ducks. But it was in January 2018, the mallard suddenly showed up courtesy a storm. But his arrival put tiny Niue on the global map. He shot to fame after a visiting journalist from New Zealand discovered that his makeshift home, near a puddle, was used for directions. According to Felicity Bollen, chief executive officer of Niue Tourism, Trevor was an 'excellent brand ambassador of Niue.'
Watch Video of Trevor Enjoying His Time at The Puddle
Trevor the Duck Has a New Friend!
Mallards are dabbling ducks that breeds throughout the temperate and subtropical regions such as Americas, Americas, Eurasia, and North Africa and has been introduced to New Zealand, Australia, Peru, Brazil, Uruguay, Argentina, Chile, Colombia, the Falkland Islands, and South Africa. Niue, a tiny island, lies around 2,400 kilometres (1,500 miles) northeast of New Zealand. Coming back to mallards, they have a lifespan of 5 to 10 years. In a tragic incident, Trevor lost its life. He might have been called 'World's Loneliest Duck', but he departed the mortal world as a global icon! RIP Trevor, The Duck.