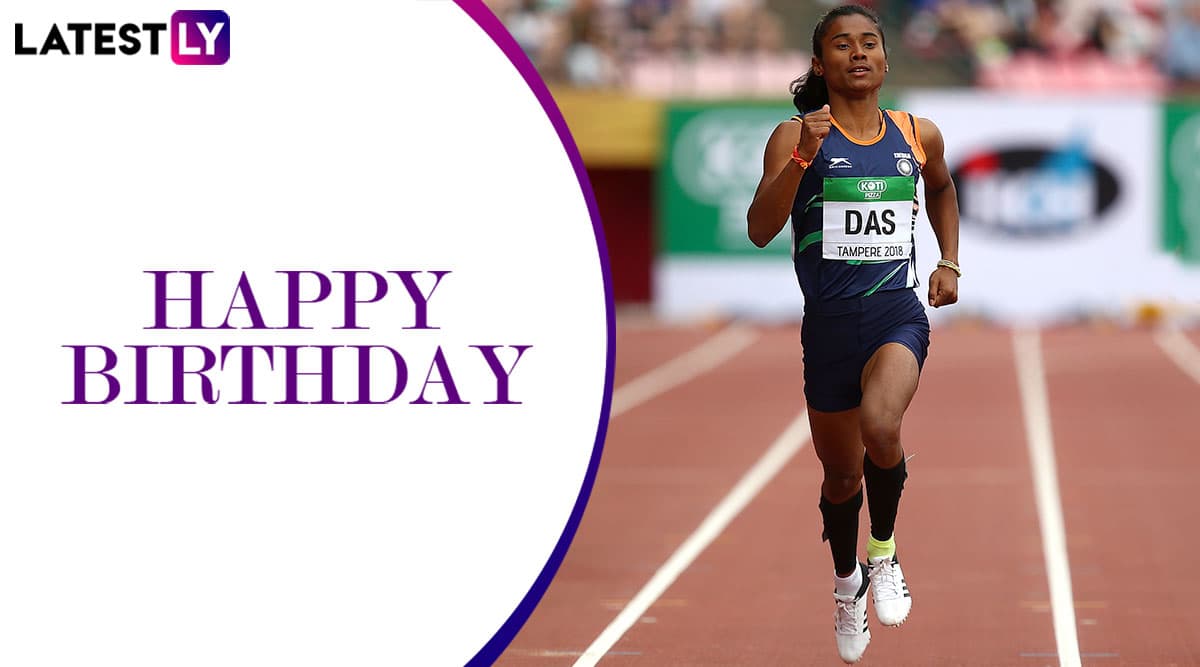 One of India's brightest hopes in sprint and track field, Hima Das celebrates her 20th birthday on January 09, 2020 (Thursday). Born in a small village of Dhing district of Assam, Hima caught the world's eye when she clinched the gold medal at the IAAF World U20 Championship in 2018. The feat not only made her first-ever Indian top the podium at the World U20 championships but also the first-ever Indian to win a gold medal at any international track event. She enhanced her reputation with multiple success at the 2018 Asian Games in Jakarta, Indonesia. On the occasion of Hima Das' 20th birthday, take a look at some lesser-known facts about the sprinter. Most Tweeted Handles in Sports 2019 - Female: PV Sindhu, Hima Das, Sania Mirza & Other Top Female Twitter Profiles in India.
Born in a farmer family, Hima Das initially wanted to become a footballer but later changed to track and field after being persuaded by her coach. She is the youngest of five children in the family. She kick-started her sprint career by training regularly at her father's farm in the village of Kandhulimari. At the start of her sprint career, Hima was trained the physical education teacher Nipon, who serves as an athletics coach with the Directorate of Sports and Youth Welfare. Nipon persuaded Hima Das to travel to Guwahati for better training.
Hima Das was born on January 09, 2000, in Kandhulimari village of Dhing district in Assam

Hima started off as a footballer before being persuaded by her coach Nipon to focus on sprinting

At the 2018 Asian Games, Hima Das clocked 50.79 seconds to set Indian national record in 400 meters

Hima Das is the first Indian to win a gold medal at IAAF World U20 Championships

She is also the first Indian ever to win a gold medal at any international track event

Hima Das was conferred with Arjuna award on September 25, 2018

Hima Das clinched two gold medals and a silver at the 2018 Asian Games in Jakarta
Das participated at the 2018 Asian Games in Jakarta and returned with three medals, which included an individual silver medal and two gold medals in the women's 4x400m sprint and mixed 4x400m sprint race. The Indian mixed relay team has initially won silver medals at the Asian Games but the medals were upgraded to gold after the original winners Kenya were suspended due to doping reasons.