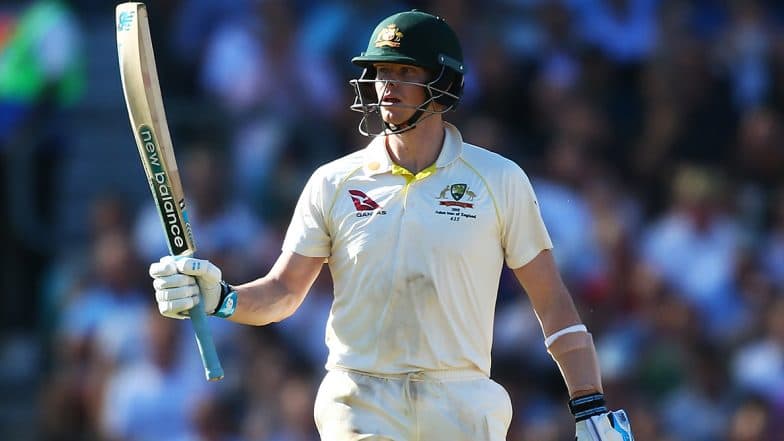 Steve Smith has been on a remarkable run ever since returning from the one-year ban, he was handed, for masterminding the ball-tampering scandal in Cape Town 2018. The 30-year-old needed three innings in Ashes 2019 Test series to reclaim his position as the World No 1 Test batsman after initially beginning Ashes 2019 as the fourth-ranked batsman in ICC Test rankings for batsmen. His astonishing run of scores and record-breaking streak – whenever Smith has played – has led to fans eulogising him. The 30-year-old, like every time he has batted in Ashes 2019, enthralled fans with another successful outing, which not only put Australia in command but also put a halt to the collapse triggered England's fast bowlers. England Vs Australia, Live Cricket Score 5th Test Match.
Amazed at Smith's staggering run and having realised that they witnessing an all-time great, fans have now started extolling the former Australian skipper for his remarkable form. Many cricket enthusiasts posted that it now normal for Smith to arrive at the crease and score a Test century. The 30-year-old right-handed batsman has managed at least a half-century every time he has stepped out to bat in Ashes 2019 and has two centuries, a double hundred and three fifty-plus scores in the five innings he has played. Steve Smith Surpasses Clive Lloyd and Inzamam-ul-Haq to Create THIS Rare Test Record on Day 2 of Fifth Ashes 2019 Test.
Steve Smith is Unassailable!!
#SteveSmith #Ashes2019#Ashes19 #ENGvAUS

Steve Smith : pic.twitter.com/oj09j6YQhm

— MisStree (@Woke_Muslim) September 13, 2019
Ashes 2019 Proved It
Steve Smith vs English bowlers#Ashes2019 pic.twitter.com/KOSDGA2anh

— SAMRAAT (@DynamiteXI) September 13, 2019
You Get Old But He Doesn't Get Out
Stuart Broad before and after bowling at Steve Smith in this series. #Ashes pic.twitter.com/yqULmwun0g

— Saurabh Malhotra (@MalhotraSaurabh) September 13, 2019
That Seems Decades Ago
The last time that Steve Smith looked vulnerable pic.twitter.com/c9nAABELXE

— Dennis Review System (@DennisCricket_) September 9, 2019
Immortal
Steve Smith too good to play cricket on Earth 😂😅🤣#Ashes#Ashes2019 pic.twitter.com/6XVPaFnm1A

— Naqi Hussain🇵🇰🦍🏴󠁧󠁢󠁷󠁬󠁳󠁿🏴󠁧󠁢󠁥󠁮󠁧󠁿 (@Naqi_786) September 8, 2019
Two Players Leave & Return Together. But...
Runs scored In #Ashes2019

David Warner - 79 (8 innings)

Jason Roy - 79 (7 innings)

--

Thr lowest score of #SteveSmith in #Ashes is 82❤ pic.twitter.com/S3Z7GSpGUq

— ѕнєяנєєℓ вαвαя (@Sherjeel_says) September 8, 2019
Now This is Shocking!!
Steve smith didn'tget a 100 #TheAshes pic.twitter.com/vrPDdk0Pwt

— andy the merrymiller (@andyshaw71) September 13, 2019
Mission Accomplished
Steve Smith finally out! #ENGvAUS 🏏 pic.twitter.com/uLp4z9rlH9

— Lewis Thompson (@LewisThompsonn) September 13, 2019
Years Ago We Remember
Last time England got Steve smith for a low score #ashes2019 pic.twitter.com/uU8IbFm04d

— SN (@sainikhilcfc) September 7, 2019
England Players to Steve Smith
#ENGAUS #Ashes #SteveSmith #AusvsEng

English players to Steve Smith : pic.twitter.com/7iliA4CHy8

— MisStree (@Woke_Muslim) September 7, 2019
Please Hear Her
My summer feelings towards Steve Smith summed up in a GIF. @bbctms #Ashes pic.twitter.com/RGi9UmcwpE

— Simone (@SimoneC) September 13, 2019
Meanwhile, Smith's fifty has once again put Australia in command on Day 2 of the fifth Ashes 209 at The Oval. Earlier, Jofra Archer had reduced Australia to 14-2 in six overs before Smith, in the company of Marnus Labuschagne (48), rescued the defending Ashes champions with a vital 69-run stand for the third wicket. Australia currently lead the five-match Ashes Test series 2-1 and have already retained the Ashes urn – making it the first time that they successfully took the urn back home from English soil since 2001.