India is cruising to victory in the fourth and the last Test match of the Border-Gavaskar Trophy. The visitors for the first time are on the verge of winning the Test series on Australian soil. Virat Kohli and men have now enforced a follow-on as India restricted the opponents to the total of 300 runs. This was the first time that the Aussies have been imposed with a follow-on since 2005. The play was obstructed due to bad light and the Aussies were at the score of 6 runs with no loss of wickets. Ind vs Aus 4th Test Day 4 Video Highlights: Kuldeep Yadav Claims a Five-Wicket Haul as India Enforce Follow-On. 
Now, let's see if the rain Gods obstruct the play on the final day of the last Test match between India and Australia. Now as per Accuweather.com, there could be a considerable amount of cloudiness. So which means, the play could be obstructed once again due to bad light on day 5 as well. The average temperature will remain between 22-25 degree maximum to minimum of 21-18 degrees. Check out the snapshot of the same below: Virat Kohli's Gesture of Pink Bat and Pads During Sydney Test Impresses Glenn McGrath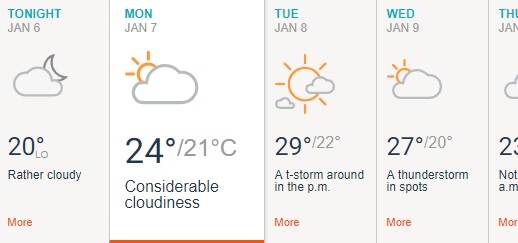 Talking about the day four of the match, Virat Kohli and men enjoyed complete dominance from the day one itself. It all started with Cheteshwar Pujara scoring 193 runs and missing out on a double century. However, this did not stop him from shattering a plethora of records. Rishabh Pant too joined the party with an unbeaten knock of 159 runs. Kuldeep Yadav on day 3 and four stole away the limelight with his killer spells.