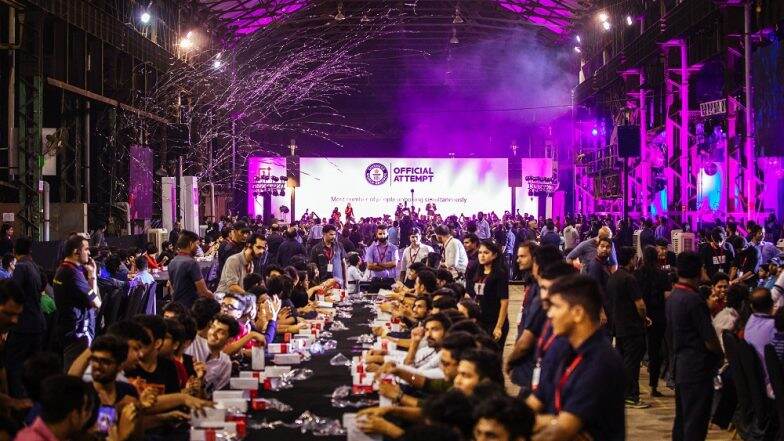 OnePlus, a Chinese smartphone manufacturer has set a new Guinness World Records Title for the most people unboxing simultaneously. This mega-unboxing event was organised two days post the launch of highly awaited OnePlus 6T on Tuesday. The Guinness World Records, a global authority on record breaking officially confirmed the record as 559 community members came together under one roof to unbox the newly launched OnePlus 6T simultaneously. Moreover, the mega unboxing event of OnePlus 6T was also attended by fitness model and actress - Bani J and Indian lyricist, rap artist and music producer, Brodha V. OnePlus 6T First Online Sale Tomorrow via Amazon India: How To Buy the New SmartPhone at the Price of OnePlus 6.
The participants at the mega unboxing event were among the first customers in the country to experience the OnePlus 6T within two days post the launch. The OnePlus community members gathered in huge numbers at Richardson and Cruddas in Mumbai to witness the unboxing event and get their hands on the OnePlus 6T devices. OnePlus Launches OnePlus 6T in India for Rs 37,999 Onwards.
Vikas Agarwal, General Manager, OnePlus India, said, "At OnePlus, we are constantly working on creating a great user experience which goes beyond the device itself and the recent GUINNESS WORLD RECORDS attempt was one such endeavor. Unboxing a new phone is a very special occasion and for our latest flagship OnePlus 6T, it was truly a heartwarming moment to see hundreds of community members coming together to create history."
Rishi Nath, GUINNESS WORLD RECORDS Adjudicator mentioned that, " I was amazed with the kind of energy and enthusiasm that was exhibited by the OnePlus community and breaking of this record is a reinforcement of the brand's popularity in India. This is another meaningful benchmark OnePlus has set for the industry, together with its loyal community." OnePlus 6T Vs OnePlus 6: Price in India, Variants, Features, Specifications & Comparison.
Talking about the device, the recently launched OnePlus 6T is believed to the most futuristic device from the Chinese smartphone maker till date, which packs Screen Unlock and 6.41-inch AMOLED screen along with class leading hardware. Powering the device is Qualcomm's Snapdragon 845 chipset that was offered on the predecessor. Offered in two shades - Midnight Black and Mirror Black, the smartphone comes in three variants - 6GB + 128 GB, 8GB + 128GB and 8GB + 256 GB of RAM and internal memory respectively.
The smartphone is made available exclusively via Amazon India from November 1 onwards. The device is also available for purchase via offline medium such as Croma store and Reliance Digital. Coming to the prices, the base variant of OnePlus 6T retails at INR 37,999 whereas the mid variant costs INR 41,999 with 8GB and 128GB. The high-end version with 8GB and 256GB is priced at INR 45,999.