Mukesh Ambani led Reliance Industries Ltd (RIL) has officially started taking registrations for the much awaited high-speed broadband service from its digital wing - Jio. Dubbed as Jio GigaFiber, the high-speed broadband was announced last month at company's 41st AGM alongside JioPhone 2. Interested buyers can openly show their interest by registering for GigaFiber, which is claimed to provide speeds up to 1Gbps. However, the users can only register their interest for Jio's high-speed broadband and priority will be given to the areas that showed the highest interest. Reliance JioPhone 2 Flash Sale Starts on August 16 Exclusively on Jio Website.
The company has confirmed that the new GigaFiber service will be introduced in 1100 cities across the nation. However, the company has not announced any official rollout date yet. Moreover, the company has been testing the broadband service for the past couple of years now and the users getting download speeds of over 700Mbps. Reliance JioPhone 2: Here's How You Can Pre-order Jio's First QWERTY 4G Feature Phone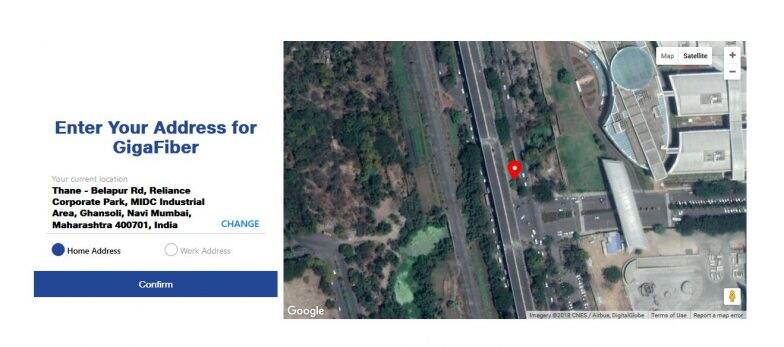 How you can register for Reliance Jio GigaFiber high-speed broadband service:
1. The interested buyers for registering Jio's high-speed broadband service can head to the official website of Jio GigaFiber page.
2. Once the page is loaded, the user needs to enter the specific address, which can be a home address or office address. For changing the location, the users can do the same by clicking on 'Change button'. After entering location details, the user needs to hit the submit button.
3. On the next page, the user needs to enter specific details such as Name and Phone Number and hit on the 'Generate OTP' button.
4. After entering the received OTP, the user needs to select the type of locality (Society, Township, Developer, etc.) and click on Submit. Once clicked on submit. The user has successfully registered for the Jio GigaFiber.
The high-speed broadband service from Jio will not only provide wall to wall high-speed Wi-Fi coverage but will also power GigaTV and Smart home solutions. To setup GigaFiber network, Reliance Jio will be installing GigaRouter at home or office location. The company has already claimed that the users will be able to stream 4K videos and play VR games on the network. However, the company has not specified the number of devices that will be supported on the network at the same time.
Moreover, GigaFiber from Jio will also power TV experience as well as smart home solutions. The company will install GigaTV set-top box with voice-activated remote providing the seamless experience to 600+ TV channels, thousands of movies, millions of songs, and more. Moreover, the company has also claimed that the users will also be able to make video calls on TVs powered by Jio GigaFiber. However, the video calls will be supported on other TVs via Jio network.