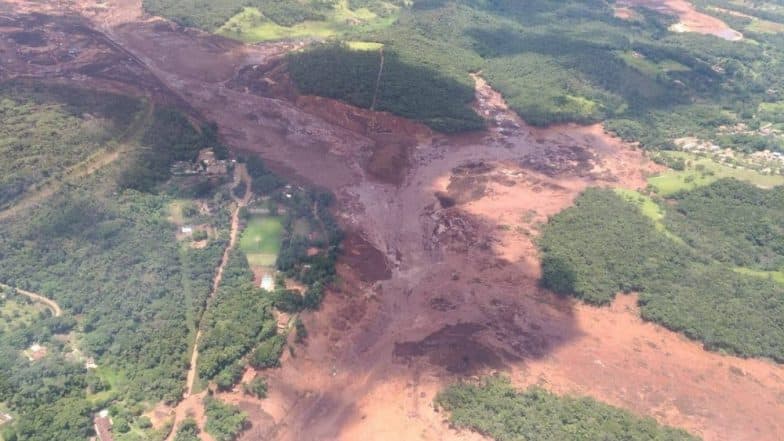 Toronto, January 27: The bursting of the dam in Brazil's Brumadinho has claimed the lives of at least 50 people but the death toll could rise astronomically as rescue officials say that more than 300 people remain missing 24 hours since the incident.
The state governor, Romeu Zema, said he did not expect many more survivors. "We know now that the chances of having survivors are minimal and that we will probably rescue bodies," he said.
The dam near Feijão iron ore mine owned by mining company Vale burst its barrier at around 13:00 local time on Friday, flooding another dam down below. The dam which was a holding area for mine residue released a sea of sludge. This thick mud cut through the dam's complex, nearby farms and the neighbourhood where many of the workers lived, drowning houses and vehicles. The muddy sludge also buried the mining site's cafeteria, where workers were eating lunch, and at least one bus that carried workers.
Rescue efforts were suspended early on Sunday over fears of the second dam bursting. Authorities halted the search for survivors for hours amid fears that another dam was at risk of giving way in the area. About 3,000 people living in the area have been evacuated.
Brazil's new president, Jair Bolsonaro, visited Minas Gerais and flew over the disaster area. "We will do what is within our reach to attend the victims, minimise damages, investigate the facts, demand justice and prevent new tragedies like Mariana and Brumadinho," he tweeted.
However, this is not Brazil's first brush with a dam burst from a mining operation. A similar accident in 2015 caused the death of 19 people and cost millions to clean up the area and the water sources due to widespread pollution. However, no single individual has been held to account till date.
Greenpeace Brazil has called the Brumadinho incident a "crime" and "not an accident."
The environmental organisation in a report from ground zero says, "The impacts of the environmental crime committed by Vale in Brumadinho are still unfolding. The sludge is likely to extend up to 220 kilometers from the site, and can be retained at the Retiro Baixo Hydroelectric Plant (UHE) between Curvelo and Pompéu. Otherwise, it can reach the São Francisco River. Although it is not yet possible to know the total impact, a great fish mortality is already identified."