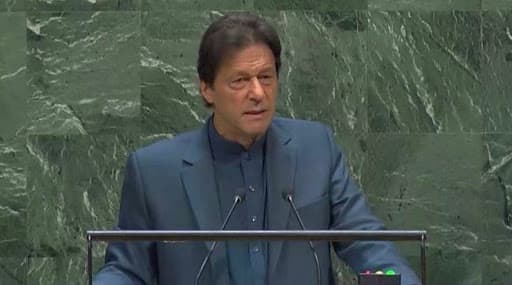 New York, September 27: Pakistan Prime Minister Imran Khan on Friday made provocative remark while speaking over Kashmir issue during his address at the 74th session of the United Nations General Assembly (UNGA) in New York, USA. Khan threatened that there would be a bloodbath when the curfew in Kashmir is lifted. The Pakistan PM said people of Kashmir would come out on streets against the Narendra Modi government's move to scrap special status of Jammu and Kashmir. Narendra Modi Speech at UNGA: Built 11 Crore Toilets in 5 Years, Committed to Movement Against Single Use Plastic, Says India's Prime Minister.
Khan added that there would be another Pulwama-type terror attack in Kashmir after the Indian government lifts the curfew and then entire blame would be on Pakistan. The Pakistan PM also hit out at the Rashtriya Swayamsevak Sangh (RSS). He said that the ideology of RSS is inspired by Adolf Hitler and Benito Mussolini. Khan also accused the RSS of "ethnic cleansing of Muslims".
During his speech, the Pakistan PM termed India's claims of destroying Jaish-e-Mohammed (JeM) terror camps in Balakot as a lie. He even said, "PM Modi's election campaign is based on a lie." Khan even stated that there are no terror camps inside Pakistan's territory.
Khan, during his address, said that Islamophobia is dividing the world. Hitting out at western countries, Khan said that Muslim women had been asked to take off their Hijab in other nations, but they are okay with them taking off their clothes. Speaking on the issue of global warming, he claimed that the government planted a billion trees after coming to power last year. The Pakistan PM, however, exceeded the speech time allotted to every leader. India used the right to reply option, to Khan's speech in the UNGA.
Earlier in the day, Prime Minister Narendra Modi delivered his speech at the UNGA. During his address, PM Modi raised the issue of terrorism. He asserted that India is a peace-loving country. During his address, the Prime Minister added that India had given the world Buddh – founder of Buddhism and not Yudh (War) to underline country's no war policy. Tensions between India and Pakistan increased after the Modi government scrapped the special status of Jammu and Kashmir by diluting Article 370.