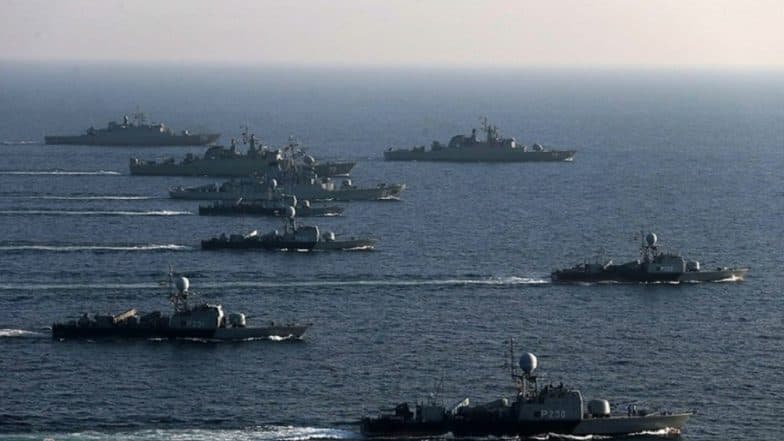 Toronto, February 22: Amid soaring regional and international tensions, Iran is holding war games in the Strait of Hormuz to showcase its maritime prowess and potential to project its aggression in the region.
The war games began on Thursday and will go on for a week. The marine drill named Velayat 97, will include battleship exercises and amphibious and anti-amphibious warfare manoeuvres. The Iranian navy will move from the Strait of Hormuz to the Sea of Oman while displaying its maritime might. The war games will include the newly inaugurated, indigenous produced submarine called Fateh, which is reportedly capable of launching missiles as well.
According to the Iranian navy, the Fateh which is able to stay submerged for up to five weeks at a time, is equipped with torpedoes and precision-guidance system to target enemies from a distance.
Rear Admiral Hossein Khanzadi, commander of Iran's navy said, "For the first time, these weapons will be tested seriously and we can make the maritime region unsafe for the enemy in any way possible."
This round of maritime war games is an annual feature but the Iranian navy's display of its strengths is aimed at sending a message to the U.S. and its regional allies like Saudi Arabia and Israel. The Trump Administration is working at the international level to ensure its sanctions bring Tehran back to the negotiating table for a new nuclear deal after US President Donald Trump walked out of the Iran nuclear deal in 2018.
However, the Trump Administration's strategy of trying to choke off Iran from the international market has not been very successful as the other signatories to the Iran deal – UK, France and Germany have refused to walk out of the deal. They are in fact working to set up mechanisms that allow them to continue doing business with Iran without violating US sanctions.