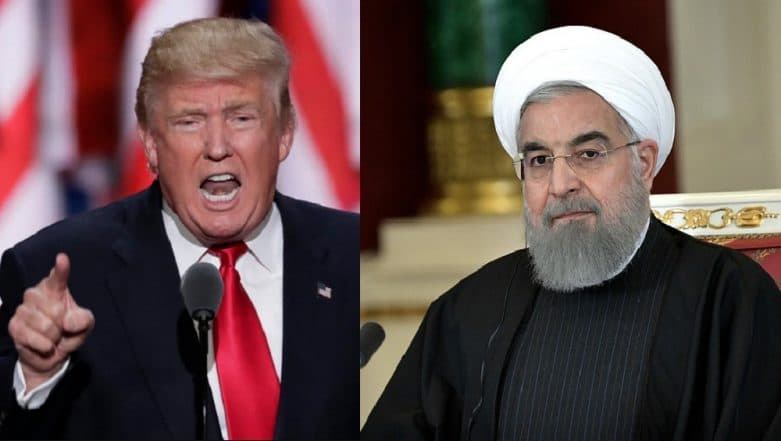 U.S. President Donald Trump has just opened the door to the possibility of meeting with Iranian President Hassan Rouhani — just one week after threatening the country with potential war.
During a press conference with Italian Prime Minister Giuseppe Conte on Monday, a reporter asked Trump if he would be open to meeting with Iran's president. Trump responded that he'd sit down with any leader and talk.
"I'm ready to meet any time they want to," he said, adding that he'd do so without preconditions. "Speaking to other people, especially when you're talking about potentials of war and death and famine," he continued, "you meet."
Trump referred to his recent one-on-one discussions with North Korean leader Kim Jong Un and Russian President Vladimir Putin as examples of his direct diplomacy with leaders deemed hostile to U.S. interests.
"So, I would certainly meet with Iran if they wanted to meet. I don't know that they're ready yet. They're having a hard time right now," Trump added. "I'm ready to meet anytime they want to."
Asked if he had any preconditions for such a meeting, Trump replied: "No preconditions. If they want to meet, I'll meet."
Later, in an interview with the television network CNBC, U.S. Secretary of State Mike Pompeo said Trump is prepared to sit down with the Iranians if they "make fundamental changes in how they treat their own people, reduce their malign behavior," and agree it is worthwhile to put in place a nuclear agreement "that actually prevents proliferation."
This is indeed a startling turnaround from Trump, who pulled out of the Iran Nuclear Deal earlier this year and reimposed economic sanctions on Tehran. He has also threatened to sanction any country or firm that does business with Iran along with insisting that countries also stop importing Iranian crude oil.
Most recently, on July 23, Trump threatened Iran in an all-caps tweet with "consequences the likes of which few throughout history have ever suffered before." That came in response to a speech by Rouhani in which he warned that peace between the U.S. and Iran would be the "mother of all peace" and confrontation between the two would be the "mother of all wars."
These statements from Trump are similar to his back and forth with North Korea in 2017 as he had called Kim Jong-un 'little rocket man' and threatened the country with 'fire and fury the likes of which they had never seen.'
So does this mean even as Iran stares at a potential economic isolation, a Trump-Rouhani summit could happen in the near future? With Donald Trump in the driving seat, one never knows.