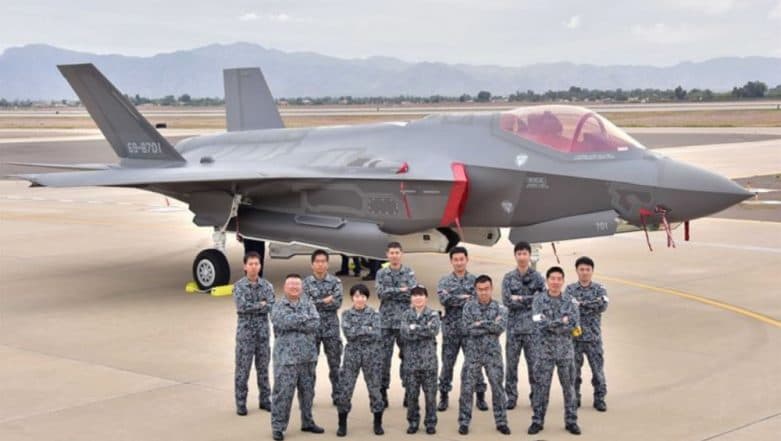 Mumbai, April 18: Japan's fleet of F-35As made seven emergency landings since the Japanese air force began using its fleet of 13 F-35As in January. This statistic was revealed by the country's Defence Minister Takeshi Iwaya as the country is investigating the crash of one of its F-35A stealth fighter jet in the Pacific Ocean.
Iwaya said the seven emergency landings happened before the end of February. The plane that crashed made two of the emergency landings. The Japanese Maritime Self-Defence Force said search is still underway for the crashed aircraft.
The Japanese Defence minister also revealed that of the seven emergency landings, six involved aircraft assembled in Japan and one assembled in the United States. "Though U.S. search and rescue efforts have ended, we will continue to coordinate with our Japanese partners on efforts to locate and recovery the missing aircraft," U.S. Air Force Col. John Hutcheson said. The US military has dispatched one military aircraft and one vessel to join the mission, said another official.
Japan has since the crash grounded its fleet of remaining 12 F-35As.
Japan is hoping to recover parts of the F-35A stealth fighter jet as it is the most advanced aircraft in the industry currently. It has recovered the jet's tail but they were still hunting for the rest of the fuselage, as well as the pilot. "The F-35A is an airplane that contains a significant amount of secrets that need to be protected," Iwaya told reporters.
The F-35A is produced by Defence manufacturer Lockheed Martin. Lockheed Martin promises the high-tech fighter as "virtually undetectable" and says it allows the U.S. and its allies to dominate the skies with its "unmatched capability and unprecedented situational awareness". Japan has asked for 107 F-35 jets from the American manufacturer making it one of just 14 countries slated to have the deadly stealth fighter jet.