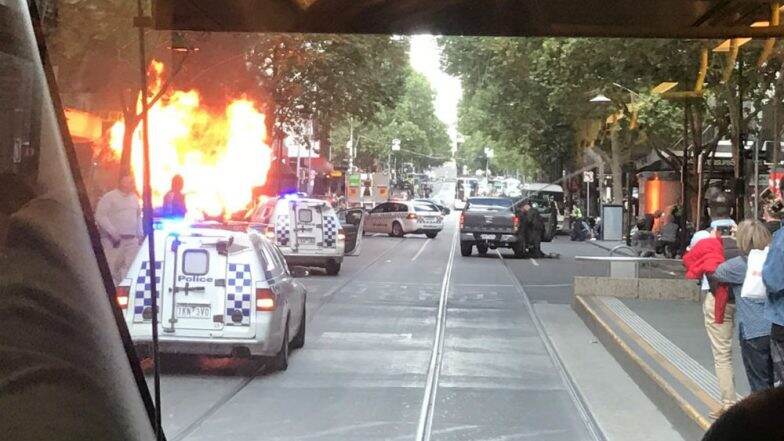 Melbourne, November 9: At least one person was killed and several others were injured in a stabbing incident in Melbourne's central business district on Friday. Reports inform that a man was shot in the chest by police after making stabbing gestures at two uniformed officers who were responding to a burning car in central Melbourne. The man, believed to be the driver, stabbed three people and was then shot by police. Soon after the incident, the area has been cordoned off by the Police.
According to reports, the Victoria state Police apprehended a suspect near a burning vehicle. The Police informed that the suspect has 'no known link to terrorism'. Expressing grief over the incident, Melbourne's mayor, Sally Capp, said, "we can pull together to support each other". London Stabbing: 2 People Injured in Knife Attack at Sony Building at Kensington. 
Take a look at the tweets:
Chaos in #bourkest as a guy seems to have set his car on fire then attacked police with a knife. Police response was swift and overwhelming. I heard at least one gunshot initially. pic.twitter.com/j5BB8VVehI

— Meegan May (@meegslouise) November 9, 2018
This is what the new anti-terror public alert and loudspeaker system sounds like. Bomb squad have cordoned off the intersection but say they aren't looking for anyone else. #BourkeStreet pic.twitter.com/ODZCw7IK8u

— Simone Fox Koob (@SimoneFoxKoob) November 9, 2018
Eye-witnesses claimed that they heard the explosion and turned around and saw the suspect wielding a knife, running around the police car. Victoria state Police confirmed that one person was killed, while two others were injured. It said in a statement said that the Police initially responded to a report of a car on fire near the corner of Swanston Street about 4:20 pm (local time) as people began to leave work for the weekend.
Bourke Street in Melbourne CBD remains closed following an incident.

Closures have been set up with no access from Swanston St to Exhibition St.

Russell St remains open to traffic.

Trams not operating on Swanston or Bourke St around closure.

Updates at @VicTraffic pic.twitter.com/YQahS9Z0kh

— Victoria Police (@VictoriaPolice) November 9, 2018
The Police informed that a man was arrested at the scene and has been taken to hospital under police guard in a critical condition.   According to details by Police, one person has been taken to hospital with a neck injury in a suspected critical condition, one with a head injury and a third with unknown injuries. One of them has succumbed to injuries.