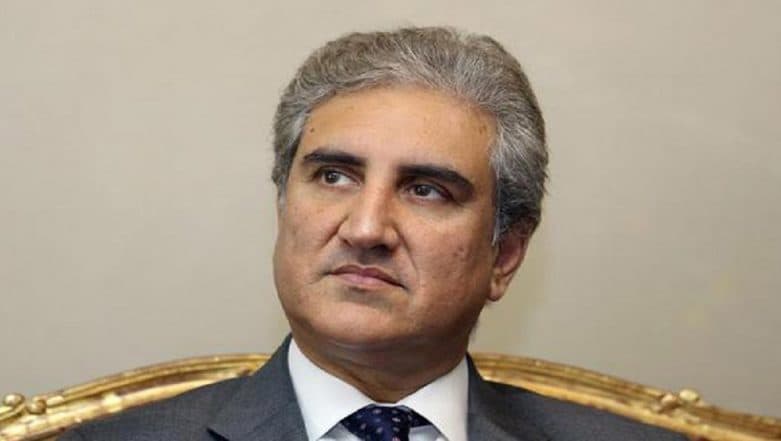 Geneva, September 10: Pakistan Foreign Minister Shah Mehmood Qureshi termed Jammu and Kashmir as an Indian state on Tuesday. Qureshi's statement validated India's stand that Jammu & Kashmir is its integral part. The Pakistan Foreign Minister made these remarks during media interaction in Geneva after his anti-India speech at the United Nations Human Rights Council (UNHRC). Pakistan Foreign Minister Shah Mehmood Qureshi Says 'No Talks Until Restrictions in Kashmir Lifted'.
Speaking to media, he said, "India is trying to impression to the world that the life has returned to normalcy, and if the normalcy has returned than why India is not allowing international media to go into the Indian state of Jammu and Kashmir." He further added, "India is lying through their teeth, once the curfew is lifted the reality will come out." Pakistan to Take India's Move on Kashmir to UNSC, Says Shah Mehmood Qureshi.
Shah Mehmood's Qureshi's Statement:
#WATCH: Pakistan Foreign Minister Shah Mehmood Qureshi mentions Kashmir as "Indian State of Jammu and Kashmir" in Geneva pic.twitter.com/kCc3VDzVuN

— ANI (@ANI) September 10, 2019
Earlier in the day, Pakistan raised Kashmir issue in the 42nd session of the UNHRC. Qureshi alleged human rights violation in Jammu and Kashmir after the abrogation of Article 370. The Pakistan Foreign Minister also termed the Narendra Modi government's move to scrap special status of J&K as illegal under international law. India will reply to Pakistan's allegations over Kashmir in Geneva at 6 pm. Pakistan Writes to UN Chief: Denies Role in Pulwama Attack, Says India Threatening Us With Force.
Qureshi's statement came a day after when UN human rights chief Michelle Bachelet expressed "deep concern" over the impact of restrictions in Kashmir. He also asked India to ease the current lockdowns to ensure people's access to basic services.