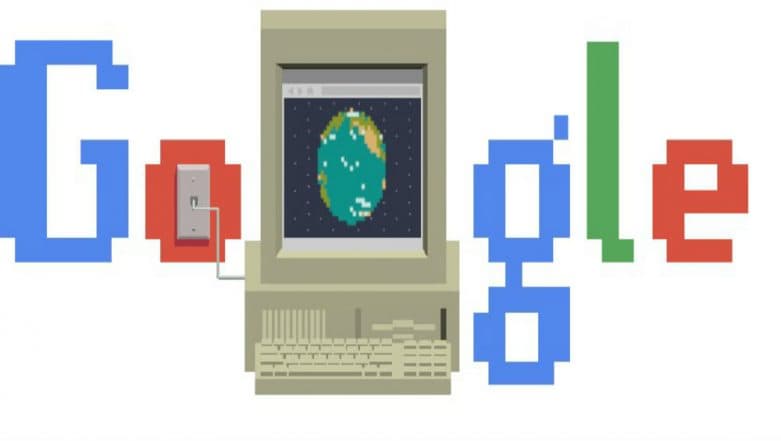 New Delhi, March 12: Search giant Google dedicated a Doodle to the The World Wide Web (WWW) on the 30th anniversary of the WWW. The World Wide Web is a combination of all resources and users on the Internet that are using the Hypertext Transfer Protocol (HTTP). The World Wide Web Consortium (W3C) provides a broader definition. It describes the WWW as "The World Wide Web is the universe of network-accessible information, an embodiment of human knowledge." Google Completes 20 Years of Existence: Journey of Logos From 1998–2018 to Celebrate the Birthday of Search Giant.
On this day in 1989, that is March 12, 1989, Sir Tim Berners-Lee proposed the "Information Management: A Proposal." Sir Tim Berners-Lee is regarded as the inventor of the World Wide Web and he was a 33-year-old software engineer at the time. Michael Dertouzos' 82nd Birthday: Google Dedicates Doodle to the 'Pioneer of Computer Science', Watch his Interview & Key Facts to Know About The Scientist.
Google Doodle said in its description that, "Initially, Berners-Lee envisioned 'a large hypertext database with typed links,' named 'Mesh,' to help his colleagues at CERN (a large nuclear physics laboratory in Switzerland) share information amongst multiple computers."
Berners-Lee wrote the  humble flowchart into a working model, writing the HTML language, the HTTP application, and WorldWideWeb.app— the first Web browser and page editor. The external Web servers were very much active and running by the year 1991.
Who Invented the Internet? Log Onto Humanity's Big Invention Story- Watch Video:
Readers must remember not to confuse the internet with the World Wide Web. The WWW is an online application built upon innovations like HTML language, URL "addresses," and hypertext transfer protocol, or HTTP. The Web has been "founded on principles of universality, consensus, and bottom-up design."
Life without the Web is unimaginable. It has ushered in the information age, with close to 2 billion websites online. The endless flow of information to see today is a result of the World Wide Web.
"There are very few innovations that have truly changed everything," said Jeff Jaffe, CEO of the World Wide Web Consortium. "The Web is the most impactful innovation of our time." We wish a happy 30th Anniversary to the World Wide Web and thank Google for reminding us of the anniversary through its apt Doodle.