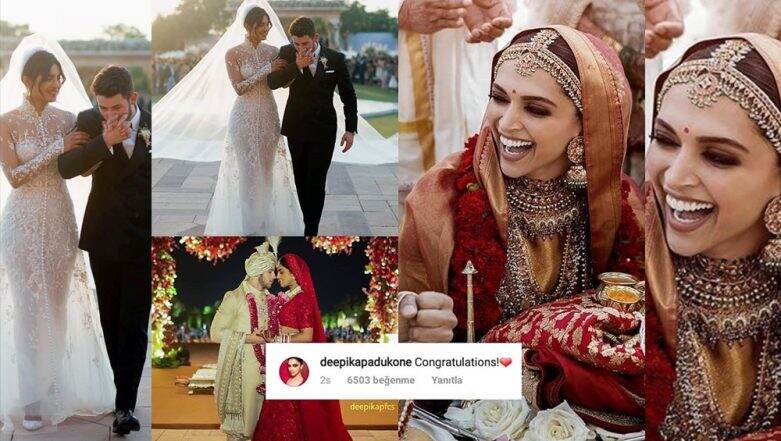 When it was reported that Deepika Padukone and Ranveer Singh had invited Priyanka Chopra for their Mumbai reception, many of them couldn't believe it! Given the history of Priyanka and Dippy, it was unlikely that the two could've stayed on cordial terms. But now, looks like Deepika has let bygones be bygones and has decided to END her cold war with PeeCee. Why we say so? Well, she just commented on Priyanka Chopra and Nick Jonas' wedding photos! "Congratulations" wrote Dippy as PeeCee shared glimpses of her beautiful wedding album all the way from Jodhpur. We're sensing this warmth and welcoming vibe from them both and we honestly couldn't be any happier. Deepika has been generous enough to extend a hand of friendship towards Priyanka and we're hoping she'd do the same too! God! We can hardly wait to see them bond once again! Deepika Padukone Ends Her Cold War With Katrina Kaif, Starts Following the Actress on Instagram.
Check out Deepika's congratulatory message for Priyanka here-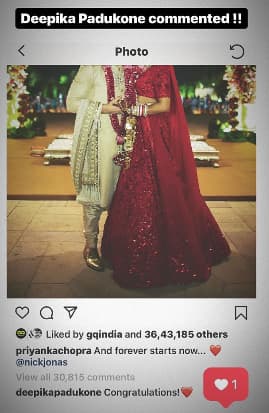 The last time Deepika and Priyanka came together for something was Sanjay Leela Bhansali's Bajirao Mastani. Post that, since they both had Hollywood ventures coming up, the two were pitted against each other several times. There were reports stating how Dippy and PeeCee were competing against each other to establish their stand in Hollywood. We'd not really like to comment on that considering how things are finally getting better between the two. Coming back to Deepika's comment we think she is being super sweet, like always! Now we cannot wait to see Priyanka's response to it!