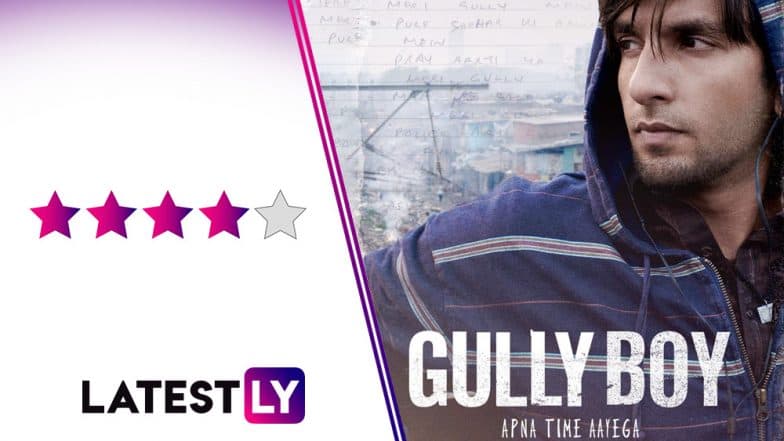 Murad (Ranveer Singh), who is replacing his father (Vijay Raaz) as a driver for a rich family, is waiting outside in the car as his clients are celebrating a New Year's Party. A frustrated Murad begins to murmur "Apna Time Aayega" a couple of times, trying to reassuring himself. And before we know it, he begins to start penning the lines of the rap that would soon be Gully Boy's crowning glory. Okay, I won't waste your time in sharing my thoughts till the end. This is a movie that I would absolutely recommend to anyone. Zoya Akhtar reloads all her best punches through angsty rap in her finest film to date! Gully Boy Box Office Prediction: Can Ranveer Singh and Alia Bhatt's Film Beat First Day Collections of Vicky Kaushal's Uri and Become the Highest Opener of 2019?
Curious to know more about Murad's story and why it makes Gully Boy, inspired by real-life rapper Divine and Naezy, work? Murad lives in the slums of Mumbai with a dominating father and a long-suffering mother (Amrutha Subhash). Suffocated by the constrictive environs of his upbringing, Murad expresses his frustration through his poems. He has a bright spot in his life in the form of his girlfriend Safeena (Alia Bhatt) but it is when he meets MC Sher (Siddhant Chaturvedi), that there is that light at the end of the tunnel. Through his new mentor and friend, Murad is inducted into the world of angry rap battles that gives voice to his silences, groove to his words.
For most of the movie, Gully Boy is a fascinatingly immersive experience that reels you in right with the first scene. It has Murad being a reluctant participant in a car-jacking by his friend, Moeen (Vijay Varma). He doesn't like the whole activity and even voices his protest, but goes along with him. Here's where we get a sketch of a pre-Azadi Murad's character. At home, his protestations are in form of silent, incensed glances towards his disapproving father even when the latter brings in a younger woman as his second wife. That scene was brilliant. As the father brings in the new wife, there are strains of shehnai playing in the background. A rueful Murad watches them come to the house and he puts on a song on his player, and suddenly the music changes to rap. Just when we are getting hooked to what he is listening, his father pulls down the earphones and we get back to the shehnai. It is like the metaphor for how the older generation looks down on the form of rap music.
Just in case you didn't get the hint, another elderly character asks Murad why couldn't he sing ghazals instead. But if you wonder Gully Boy is about the celebration of rap as an art form, you are not completely right. Sure, the songs bring the angst to the screenplay and you end up swaying to every word uttered. The magic of this first begins when MC Sher insults a college-goer who boos another singer through rap. And ends with a terrific finale that will make you clap to the beats of "Apna Time Aayega". Gully Boy gets you on a high when it indulges in those rap battles, structured like an abusive qawwali. The energy in those scenes is just fab! The movie may own its inspirations to Eminem's 8 Mile, and it doesn't deny it, as seen in the scene where Murad's book has a picture of Eminem.
But remove that rap part or replace it with any other art form, and still I feel Gully Boy would have been fantastic. Because what works here is that Zoya Akhtar has crafted a beguiling underdog saga. I feel her strengths are getting her stars shed their images and extract fine performances from them, and develop splendid human dynamics. Every movie of hers, from her debut Luck By Chance to her last before this, Dil Dhadakne Do, has shown off how brilliantly she gets character interplay. Zoya and her partner-in-crime Reema Kagti (in writing) use the best of their skills to develop the world around Murad. While we yearn to see his rise to stardom, his equation with his girlfriend, his family and his friends are nearly captivating.
Gully Boy is about Murad, and if you really look deep into it, then there is no space for Safeena there. Zoya still manages to let this firebrand of a character grown in her own space. Without going the cliched way, Safeena shows the struggles of the middle-class to break free through her night adventures or her insistence to pursue her career. If Murad gets it out through songs, Safeena gets her anger out by taking down girls who eye her boyfriend. The scene where she manhandles a girl who SMSes her boyfriend is hilarious. Also, the other (more serious) scene where she confronts a character, whom she suspects having an affair with her boyfriend is just good drama.
Ranveer and Alia's chemistry may not be smouldering but Zoya makes sure that looks natural by the many passionate liplocks. I sure wish that we get to see more of Safeena's wins rather than cheering for her boyfriend, and that it develops their romance, but it is a minor niggle.
Zoya has been often accused (unfairly to some extent) of showing the opulence of her characters in her films. With Gully Boy, I expect you to change that opinion of yours about her. I am not saying that she has got the lives of lower-middle-class families to the dot. But having come from a similar background, there is a lot for me to relate to here. The Mumbaiya-Hyderabadi slang that Murad uses is a special touch indeed.
Vijay Maurya's dialogues (he also plays Murad's uncle) is also a huge asset. The humour is brilliant and casually interspersed in the dramatic portions. Picture this scene - when Murad's father finds out about his rap videos, he slaps him hard. After he leaves, Murad's step-mother whispers into his ear that she loved his song and goes after her husband. Then his real mother approaches him and we think she is about to caress the cheek that got slapped. Instead, she asks what the other woman whispered. Gully Boy is filled with such gems.
The music is brilliant with Javed Akhtar's lyrics portraying Murad's inner dilemma beautifully. Most of the songs are wonderful, though "Apna Time Aayega", "Meri Gully Mein" and "Jeene Mein" stand out. "Meri Gully Mein"'s picturisation is just too good.
Watch The Trailer of Gully Boy Here -
If we talk about the flaws, I was not in love with the whole Sky (Kalki Koechlin) subplot in the second half. She gets inserted in the proceedings out of nowhere and becomes that distraction in Murad's life. It may have added some watchable drama in the portions, but it drags the movie's runtime. Moreover, it takes away Murad's angst for some time and makes him so flawed that we really don't know whether to cheer for him. Some of the scenes in the second half feel like a Ranbir Kapoor movie (not a deliberate inference). The much-hyped "Azadi" song placement is annoyingly safe, which is a surprise since how well Gully Boy has utilised the other songs. Thankfully, Zoya brings the groove back through Murad's family drama and gets us hooked to the beats when he gets an upper hand in a rap battle.
The Performances
Gully Boy manages to get the best out of every actor in the film from the main leads to even that minor character who animatedly displays how to make dal. While Ranveer's flamboyant personality has its fans, I am more of an admirer of his playful persona in Band Baaja Baaraat and the restrained act in Lootera. His performance in Gully Boy is an amalgamation of both, and the actor, going through a purple patch in his career, knocks it out of the park with a bravura performance. He lets his eyes rap in the dramatic scenes while channelising his famous energy in the rap sequences. The usage of this phrase is cliched but this is undoubtedly a career-best performance for Ranveer.
Alia Bhatt's character, like I pointed out, may feel very perfunctory. But if you don't end feeling so, it is due to the amazing histrionics this youngster possesses. Alia is brilliant in the scenes where she expresses her emotions in a fury, and also in the sequence, she tears herself down in getting her father on board about her future.
Siddhanth Chaturvedi, who was last seen in the web-series Inside Edge, is a revelation. He gets the part of the more established rapper boy perfectly. His intro scene is kick ass and his body language is awesome. Vijay Varma as Murad's scrupulous friend is a natural actor. The always-dependable Vijay Raaz looks every bit the abusive father, though he shines the best in the scene where he lets his guard down in front of his son. Amruta Subhash is another terrific actress who is first-rate in every scene she is in.
Yay!
- The Direction and Writing
- The Performances
- The Humour
- The Performances
- The Music
- The Finale
Nay!
- Some Lag in Between
- The "Azadi" Song placement
Final Thoughts
Watch Gully Boy Movie Review Video Here:
If I had to put a personal thought here, Gully Boy made a non-fan of rap music in me cheer for nearly every song, that's how good the movie is! This is Zoya Akhtar's best work as a director, complemented by brilliant performances from the cast, especially Ranveer, Alia and Siddhant. By the time, Murad raps to "Apna Time Aayega", we feel assured as a viewer in knowing that our time of watching a good mainstream movie has also arrived!