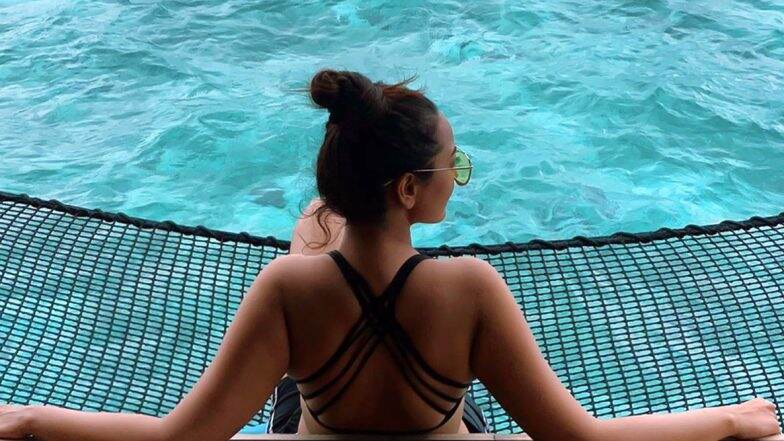 Sonakshi Sinha is the 'trend of the day' on Twitter India but the reason for it is not really in favour of the actress. The Mission Mangal star became a target of memes on Friday, September 21 night after an episode of Kaun Banega Crorepati's latest season aired featuring her where she happened to make a big blunder. When Amitabh Bachchan posed a question to Sonakshi about Ramayana, the actress not only got it wrong at start but later also took help of a lifeline for it. This resulted in Sonakshi getting badly trolled on social media but it seems the actress has decided to deal with it an unexpected manner. Sonakshi Sinha Funny Memes Take Over the Internet After She Fails to Answer a Simple Question on Ramayana in KBC 11.
While there was an expectation that Sonakshi may respond about the controversy on Twitter, the actress surprised everyone by posting a hot picture of herself from her Maldivian vacay. It looks like Sonakshi is unaffected by trolls and hence posted this back-facing picture of herself with no mention of the "YoSonakshiSoDumb" controversy.
Check Out Sonakshi Sinha's New Instagram Post:
The actress became a target of funny memes and trolls on social media after she failed to answer a simple question which asked, for whom did Lord Hanuman fetch the Sanjeevani herb in Ramayana. Another reason why Sonakshi was badly trolled was also because ironically, her family is named after characters of Ramayana including father Shatrughan Sinha and brothers Luv and Kush.
Actors tend to deal with trolls in a differently and while some like to confront them head-on, there are many who don't acknowledge them. Looks like Sonakshi is taken the latter route and won't be addressing the ongoing meme fest surrounding her wrong answer. After Alia Bhatt failed to name the President correctly, she won netizens' heart by making a video that was a joke on herself. Will Sonakshi do something similar in the future? Let's wait and watch!