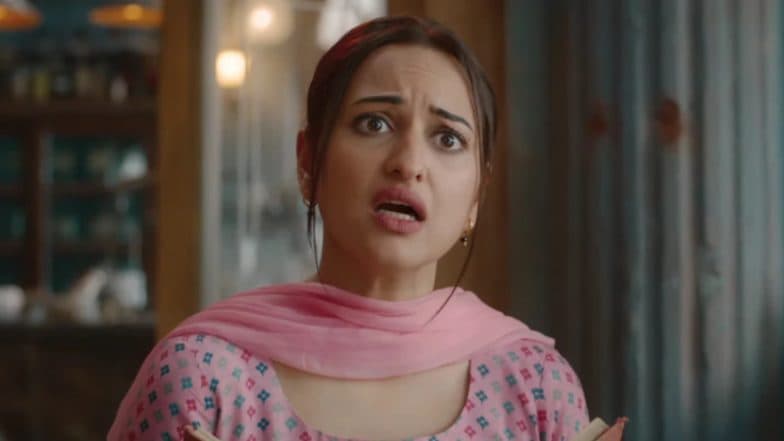 Wondering why Sonakshi Sinha is currently trending on Twitter? Well, the Mission Mangal actress has found herself in a rather odd situation. The actress recently appeared on an episode of Amitabh Bachchan's latest season of Kaun Banega Crorepati and has now become meme content after not being able to answer a simple question. Sonakshi was badly trolled on social media with hashtags such as "YSonakshiSoDumb". Funny memes are now circulating on social media after the actress failed to answer the simple question. Sonakshi Sinha and Prabhudheva Joke About Dabangg 4 and We Hope Salman Khan's Listening!
The question that got Sonakshi into trouble was when Big B asked her according to Ramayana, for whom did Hanuman get the Sanjeevani booti?'The options for this answer were, A- Sugreev, B- Laxman, C- Sita and D- Ram. After not being able to answer the question, Sonakshi asked for a lifeline to seek the answer and is now receiving immense backlash for it. Netizens also pointed out the irony of the situation considering Sonakshi's father Shatrughan Sinha, her brothers Luv and Kush are all named after characters from Ramayana.
Not long ago, Alia Bhatt had mistakenly called Prithviraj Chauhan as Mumbai's Chief Minister and was badly trolled for the same on social media. Now, netizens are calling Sonakshi, even "dumber" than Alia in their social media posts. Check out some of the hilarious memes that are now doing the rounds on the internet. Anushka Sharma's Bikini Picture Becomes a Hilarious Meme as Netizens Turn it Into VLC Player Logo and Highway Stoppage Sign - See Pictures.
Here's the Question Sonakshi Failed to Answer:
She used lifeline to answer this questions. O god! Why These bollywood actress are so dumb. All They know is how to show boobs and look sexy. #YoSonakshiSoDumb pic.twitter.com/nSCIkmn7fI

— rdx (@therdx_) September 21, 2019
Alia Bhatt After Hearing Sonakshi's Answer:
After knowing dumbness of #sonakshisinha

*le #aliaBhatt ri8 now 👇👇 pic.twitter.com/wfWm0nZfXj

— Donald trump (@chacha_trump) September 21, 2019
Amitabh Bachchan's Reaction to Sonakshi Sinha:
Amitabh Bacchan after watching Sonakshi Sinha Stupidity at KBC #YoSonakshiSoDumb pic.twitter.com/ujTf8mFvwX

— Stylish Surbhi (@JCBwaliLadki) September 21, 2019
Mazak Cha Raha Hai?
Amitabh Bachchan after hearing the answer from #Sonakshi#YoSonakshiSoDumb pic.twitter.com/PgDtAwgmni

— Abhimanyu Thakur 🇮🇳 (@iamabhimanyut) September 21, 2019
Amitabh Bachchan on the Dumbest Actress in B-Town:
Who is most dumb Female actresses in Bollywood ?

Me : Alia Bhat

Amit Ji : #YoSonakshiSoDumb pic.twitter.com/tovNRLfM35

— Sarcastic Sperm (@sarcastic_sperm) September 21, 2019
Alia Bhatt Passes on the Baton to Sonakshi Sinha:
#YoSonakshiSoDumb No doubt !!

But Alia is still the Queen Bee 😜 pic.twitter.com/n5qnTkTQHh

— चौकीदार केसरिया भारतीय (@shobhitbansal1) September 21, 2019
Stunned Netizens Have One Question for Sona:
Indian Peoples Reaction After Sonakshi Sinha Dumbness. #YoSonakshiSoDumb pic.twitter.com/PeXXwi3JwX

— Aneeka (SANU) (@AsYouNtWish) September 21, 2019
India After Watching Sonakshi Sinha Failed to Answer the Simplest Question:
#sonakshisinha #YoSonakshiSoDumb

After yesterday's KBC show

— Deepak Singh Chauhan ☆Housefull 4♡ (Akki)💯% FB (@Thakur6797) September 21, 2019
We wonder how Sonakshi Sinha is going to react all this trolling that she has received for her recent KBC stint. We are sure netizens won't let her forget this big blunder soon!