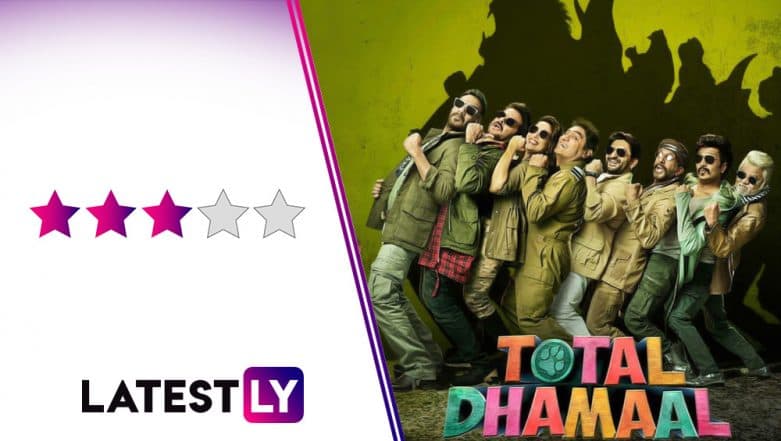 I don't know about you, but I had quite enjoyed the first Dhamaal movie when it came out in 2007. Of course, I didn't know then that it was almost a frame-to-frame adaptation of a Hollywood film, It's A Mad, Mad, Mad, Mad World. But there was plenty of fun moments to watch, as a group of morally-bending protagonists (our upright mainstream movies usually don't go that route) go on a kiddish ride to become richer. The treasure trail was dropped in the sequel, Double Dhamaal, which was a disappointment. Thankfully, director Indra Kumar realised what went wrong there and rebooted the franchise by working on the same strengths of the first film and using a bigger talented cast (though Sanjay Dutt's absence is felt). Why is why, Total Dhamaal is quite a fun ride till it goes on a slippery road in the third act. But more on that later!
Let's talk about the plot first. Unlike the first movie, there is a background given to the treasure in question here. Guddu (Ajay Devgn) and his friend Jonny (Sanjay Mishra) steal Rs 50 crores worth of black money from a corrupt Police Commissioner (Boman Irani). However, they are hoodwinked by their third partner Pintu (Manoj Pahwa) who runs away with the money. While trying to escape from both his former friends and the Commissioner, Pintu gets caught in a freak accident. Total Dhamaal First Reactions: Madhuri Dixit, Anil Kapoor's Film Is 'Hilarious', Say Fans.
His dying confession about the whereabouts of the hidden money is heard by four unconnected groups who land at the accident scene at the same time. There is about-to-be-divorced Avinash (Anil Kapoor) and Bindu (Madhuri Dixit Nene) who were on their way to meet their son. Then, there is Lallan (Riteish Deshmukh) and his sidekick Jingur (Pitobash) who were fired from the fire service (pun intended) for taking bribes. The two out-of-luck brothers Adi (Arshad Warsi) and the half-witted Manav (Jaaved Jaaferi) also join in the trail. And finally, there is Guddu and Jonny who also get to hear the confession.
Unable to come to an agreement about how to divide the money if they get it, Guddu proposes that whoever gets to it first gets the whole amount. As each group sets on their own fastest path to Janakpur Zoo (where the money is hidden), they face their own series of crazy disasters that nearly derail their treasure hunt. As they say, the bigger the prize, the bigger the risks! Non-fatal, of course!
Total Dhamaal not only borrows the same premise as the first film, but also its strengths and weaknesses. Not all the adventures share the same graph of hilarity, but when they work, you can't stop guffawing. Indra Kumar relies on the abundant comical talent in his cast, as well as serving some very silly gags and setpieces that actually work with the tone of the film. And unlike his Masti series, he keeps the comedy clean for both the adults and kids to enjoy. Total Dhamaal Box Office Prediction: Will Ajay Devgn's Multi-Starrer Get Cash Registers Ringing at the Ticket Windows?
There is really no point in looking for logic in many of these scenes. Just like in Tom & Jerry, you don't question how the cat and the mouse survive every fatal trap that they set for each other. Similarly, let's all not look into how our protagonists here come out alive from helicopter mishaps, skyscraper falls and ravenous waterfalls. I will also ignore how the movie stole the quicksand sequence from Indiana Jones and Kingdom of the Crystal Skull, because I admire both Warsi and Jaaferi (as well as how that scene ends). But Kumar's obsessive reliance to get laughs from South Indian caricatures is becoming irritating by now.
Still, Total Dhamaal, for most of its parts, is distraction-free save for that "Mungda" song, featuring a pool-obsessed Sonakshi Sinha. The song sequence is mercifully short and we are back on the track soon. Even the VFX and set-pieces, that had been derided in the trailer, complement so well with the craziness that sometimes the artificiality feels deliberate.
The ride to the treasure is entertaining, albeit with a few bumps on the way. There are three particular scenes I quite had fun watching in the film. The whole helicopter sequence, featuring Riteish, Pitobash and the ever-reliable Johnny lever, will bring the house down, more so because of how the actors bounce their zingers off each other. Then there is a scene involving Guddu, the Commissioner and a rail track. But the best of the lot is that sequence with the Chindi GPS, featuring a voice cameo from Jackie Shroff at his hilarious best! Of course, it is not as standout as the Vijay Raaz scene from the first film, but is hilarious all the same.
Indra Kumar also gives his main cast equal space to play around, never tempted to harp more on Devgn's starry charms, or over-use Jaaved Jaaferi's scene-stealing performance (which the sequel relied too much on). I wish Anil Kapoor and Madhuri's portions and lines had more wit. After all, the movie makes it special by bringing this much-loved jodi after almost two decades. Their Gujju-Marathi-flavoured banter only works because of their amazing chemistry. Total Dhamaal: Ajay Devgn, Madhuri Dixit, Anil Kapoor Get WhatsApp Stickers to Promote the Film – Watch Video.
So far, so good. And then the characters reach the zoo and the movie reaches its dreaded third act, and the fun hits a barricade. Eating into most of the second half, the zoo portions once again proves Bollywood has no clue how best to use animals. Or for that matter, Esha Gupta (in a ditzy, unnecessary cameo). The inclusion of the South Indian don (Mahesh Manjrekar) only adds to the irritation. The sudden change of heart in the main characters, as they go from plunderers to saviours, feel jerky, which was something we also saw in the first film. Why can't we have a fun film that doesn't really need a moral lesson? It is only the actors and their unbridled enthusiasm to get hit, kicked and puked that make us sail through these portions.
Watch The Trailer of Total Dhamaal Here- 
The Performances
Everyone in the main cast has done a great job in eliciting laughter from the viewers. Ajay Devgn brinks his poker face to good use here. Anil Kapoor's youthful enthusiasm is marvellous, even when his Gujju accent wavers. Madhuri Dixit, slightly exaggerated in her mannerisms even for this film, acquits herself still with a decent act. Riteish Deshmukh is a pro at accents and funny expressions, and he puts them to good use here. Arshad Warsi and Jaaved Jaaferi's hilarious camaraderie will make you wish the movie could have more of them to dazzle. Come on, Indra Kumar, Adi-Manav deserve a spin-off!
Sanjay Mishra steals every scene he is in with his Bro-ing! Boman Irani and the often-underused Vijay Patkar also shine in their parts. Pitobash gets little scope in his character to perform. Johnny Lever is hilarious.
Yay!
- The Cast
- Most of The Gags in the First Two Acts
- Jackie Shroff's Voice Cameo
- The Treasure Trail Works Again
Nay!
- Anil-Madhuri Portions Needed Better
- Reliance on Caricatures
- The Third Act Sucks
- The Dialogues Could Have Been Sharper
Final Thoughts
If you liked the first Dhamaal movie, there is a high chance that you won't walk out of the theatre, hating Total Dhamaal. Yes, there are plenty of bumps in this ride and the whole third act sucks. However, the main cast is on a roll here, most of the gags work and the kids will have a great time. Total Dhamaal demands not your brains to think but your ability to laugh at the absurdities thrown at you! An enjoyable treasure-hunt, this is!