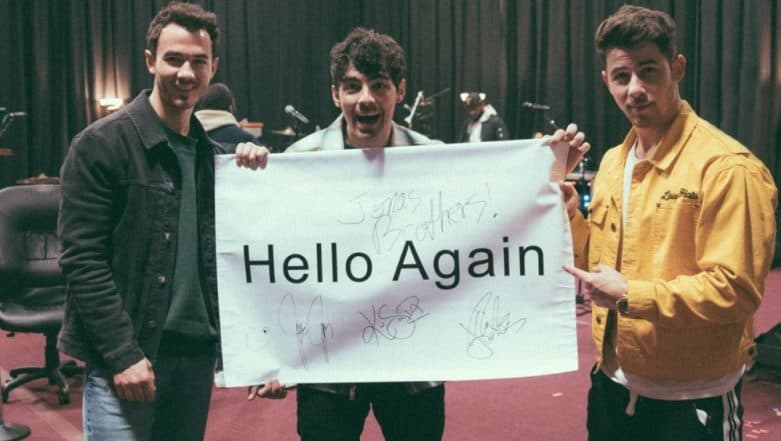 The Jonas Brothers fans are in for another treat! The reunion of the boyband has been no short of a celebration for fans. After splitting, the band reunited post 6 years and proved that people are still suckers for the Jonas Brothers. Their comeback single, 'Sucker' has become their first song ever to be on the number one position at the Billboard Hot 100 chart.
And looks like the brothers plan to bring another number in the second spot (or maybe first again!). A source close to Kevin Jonas revealed to Hollywoodlife.com, "The Jonas Brothers are so happy and relieved with how excited fans have been about their reunion. They already have plans to release even more new music due to the overwhelmingly positive response. They have really been blown away by the fans support."
The Jonas Brothers
While they haven't revealed the actual date of when they will drop the next number, it is nice to see that they have a lot of songs already in place for another go at the Jonas Brothers band. The highest place they ever found themselves on during their 8 years together was in No. 5 by Burnin' Up. The success of 'Sucker' has not been missed by their respective partners. Priyanka Chopra gleefully went "OMGeeee" over the song's Billboard milestone and stated how proud she was of husband Nick Jonas.
A source close to Kevin further added how he is overwhelmed by the success of the song and having returned to the stage to perform. "Kevin has been living life more privately than the others, so for him, this is all so surreal and he's truly so happy. It was really important for him and (wife) Danielle to start a family and he was the one who really orchestrated the reunion. He's having so much fun being back on stage and is so happy to have wife Danielle's support." Such a Hum Saath Saath Hai moment!