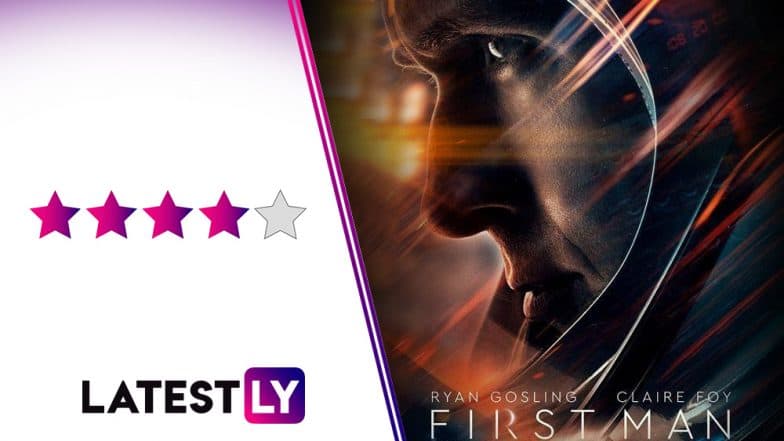 There are very few directors in the entertainment industry whose work you really look forward to. Damien Chazelle is one of them. With movies like Whiplash and La La Land already in his kitty, you know he's on the verge of scoring a hattrick with First Man. The movie - a biopic based on the life of an astronaut, Neil Armstrong, is a gripping tale of his struggles and how his determination helps him achieve an impossible feat. Now the point to note here is that the film is a biopic and it's said from Armstrong's point of view, not the country's. However, is it as great as the critics in the west are claiming it to be? It's time to answer your question.
First Man is a simple yet intriguing tale of Neil Armstrong and his mission to land on the moon. The story revolves around a traumatised father (Ryan Gosling), who is still coping with her baby girl's death. His wife and two kids mean the world to him yet he's detached from them. Neil Armstrong's life wasn't a fairytale as we see in the pictures. It was filled with hurdles, hardships, disappointments and most importantly, fear. How he overcomes every hurdle and what keeps him motivated till the very end forms the crux of the story.
This isn't the first time we see a space movie doing wonders on the silver screen. Yet Ryan's movie has an effect better than the rest. Chazelle beautifully narrates the story that's worth telling and deserving. What were the thoughts running in the astronauts' mind when they decide to go on such a risky mission - first ever for mankind. Ryan's character is aware of its perils, yet he is determined to make his country proud. He knows his mission may result in his death yet he's willing to take the chance, sacrifice his life if need be. It's quite easy to applaud their risks today, but the fear that gripped them then is hard to describe. The astronauts who came on board for the Apollo mission had no examples in front of them except an incident of other astronauts Ed White (Jason Clarke), Gus Grissom (Shea Whigham) and Roger B. Chaffee (Corey Michael Smith) blowing away in the cockpit due to some technical error during pre-flight testing. The incident was enough to demoralise them but the opportunity was knocking at their doorstep and they had to open the door. It was time for America to shine brighter than the Soviet and it was willing to take any risks, go to any length.
There are some brilliant scenes in the movie but the one where Neil makes a rather smooth landing on the moon deserves a round of applause. Later when he takes his first step on the Earth's satellite, realising his impossible dream is now fulfilled is outstanding. You can feel his emotions and the numbness that must have clutched him then.
First Man is a biopic and it revolves entirely on Neil's life. There's no lauding of US government nor is the Armstrong shown planting the American flag on the moon. The director is clear in his vision to narrate a story from Neil's point of view. His struggles, his determination, his efforts and his family. The government has a very small role to play in this entire 143 minutes long film. Also, he doesn't focus on the cheer and crowd that goes berserk after the success of the Apollo mission. He carefully describes Neil's landing on the moon as a tribute to his late daughter. No part of the movie is diverted from his tale and focusses on something that's irrelevant.
Coming to performances, Ryan is outstanding throughout the film. He's a grieving father, an ambitious aeronautical engineer, a loving husband and a good friend. His character demanded him to display various sides in different scenes and he effortlessly made the switch. He is a great actor but with First Man, he takes his acting capabilities a notch higher. His wife, Janet (Claire Foy) too is striking in the entire film. Though the movie revolves around Ryan's character, she makes her presence felt. She's a very supportive wife, a hands-on mother and a strong woman in the end. She's well aware of her husband's ambitions and she doesn't ask him to chose between his dreams and family. She knows his new mission may result in his death yet she's determined enough to not let it affect her. She's strong yet vulnerable. She's proud of her husband's brilliant mind and she hates his courage to go ahead with such a fatal mission. She lends good support to Ryan's character and so do other supporting actors who are rightly cast. Damien Chazelle's direction is excellent like always and kudos to him for presenting a story that was known yet unknown.
On its downside, the movie has some pace issues. For the ones who don't know America's Gemini and Apollo missions will struggle to know what's going on the big screen. It becomes slow in the first half but that's how these movies are usually. You can't blame the director or the editor. You can easily ignore this one flaw in comparison to its other strengths.
Yay!
Ryan Gosling
Claire Foy
Damien Chazelle's direction
Story
Nay! 
Pace issue
Final Thoughts
You should not be in any denial. This movie definitely deserves all your time. Watch it for Ryan's performance and Neil Armstrong's inspiring life. That man's determination gave America one of its most proud moment and a reason to excel and rule the aerospace industry.