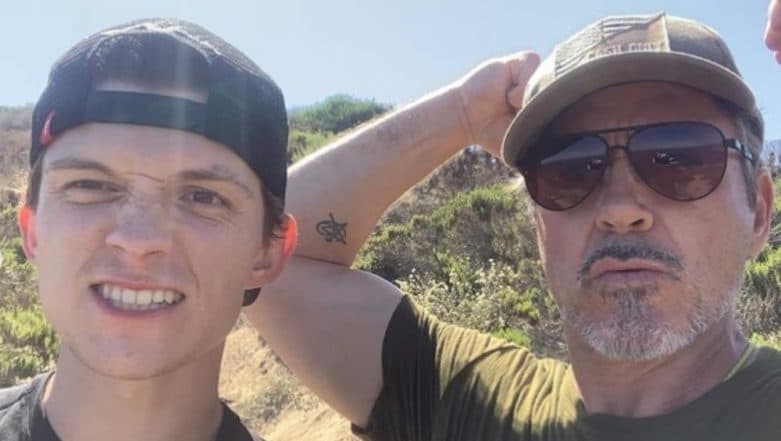 Sony and marvel's fallout was a big blow to fans of Spider-Man as the superhero was swooped out of the Marvel web and put back into solitude. After all that Tony Stark had to go through in Avengers: Endgame to bring back Spider-Man or rather Peter Parker back to life from Thanos' decimation, Sony and Disney's move sure took him away yet again. Hurts, right? Well, as emphatic as our opinions are over the untimely split between Spider-Man and Marvel, Tom Holland and Robert Downey Jr are still in cahoots thanks to a bond that was formed during his four years in Marvel. Taking to Instagram, the British actor shared a picture of himself and mentor RDJ, chilling and being super goofy. Ryan Reynolds Has A Solution To Marvel's Loss Of Spider-Man, Make A Movie Featuring Deadpool and The Web-Slinger!
Holland even captioned the image as, "We did it Mr Stark!" Now, we are not certain exactly what RDJ and Tom did but we couldn't help feeling overwhelmed to see them together again! From the looks of it, perhaps Holland and Downey Jr went on a hiking trip and maybe even returned triumphantly. Maybe that's what he means by his caption? of course, fans cannot understand how to feel as they see the pictures from their trip. Marvel Actor Jeremy Renner Has A Polite Petition To Bring Back Spider-Man From Sony - View Tweet
From being plain awkward for Tom's lens to being uber cool, Downey Jr and Holland's camaraderie certainly hit where it hurts! Fans have reacted to the pictures with comments ranging from "who else is crying?" to "I didn't know both emotion of happy and sad can come together for a single moment. Does happy and sad = neutral? I want to feel happy." Check out the pictures below.
View this post on Instagram
Ever since the split between Marvel and Spider-Man has been announced, fans have been petitioning to bring back the web-slinger back under the Marvel web. Marvel actors are also asking the studios to make up and bring back Spider-Man.