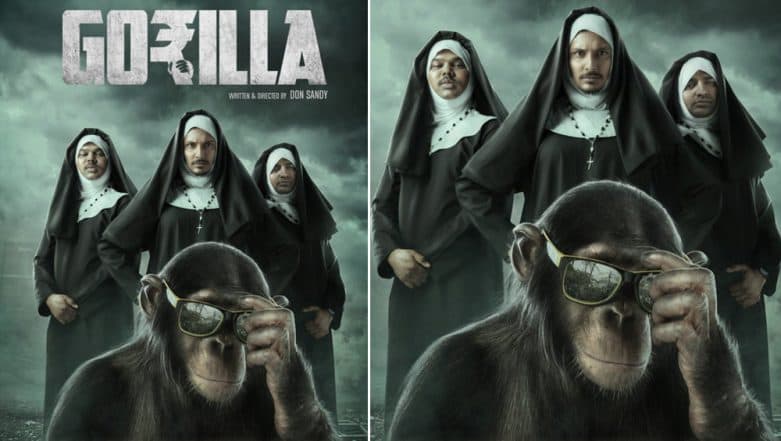 The Tamil-language film Gorilla that features Kong in the lead, released today (July 12). The film stars Jiiva and Arjun Reddy fame Shalini Pandey in pivotal roles. Touted as a heist comedy thriller, this Don Sandy directorial has opened to mixed response. Some of them found it to be entertaining whilst some said to be an average one. The actors who are seen in supporting roles include Yogi Babu, Radha Ravi, Sathish, Rajendran and Ramdoss. Gorilla Trailer: This Jiva and Shalini Pandey Starrer Promises to Be a Fun Ride and All Credit Goes to the Chimp for That! (Watch Video).
The film Gorilla revolves around a group of misfits who have planned to rob a bank with the help of a chimpanzee. As per reports, Kong was hired from the Samut training station of Thailand. This place is particularly known for training chimpanzees and gorillas for Hollywood movies. The film's director Don Sandy shot to fame in Kollywood industry with his directorial debut, Mahabalipuram that released in 2015. Take a look at what the Twitterati have to say about the film, Gorilla. Oh Baby Movie Review: Samantha Akkineni's Film Is Emotional and Highly Entertaining, Says Twitterati!
Tweet #1
#Gorilla movie will easily engage wit all genre audience wre comedy nd emotional elements filled as a

package wit good social message . The Humorous Gorilla Gang will never make you feel dud. worth watching the flick for a enjoyable weekend. Do watch in theatres🙏#GorillaReview pic.twitter.com/KRnYm1m30R

— HiFi Cinemas ™ (@HiFiCinemas) July 12, 2019
Tweet #2
#Gorilla (Tamil) - 2.25/ 5.

A bland first half followed by better latter. The second half has a couple of quirky comedy ideas (but missed out to explore) and a couple of strong farmer issue points (but overused).

MEDIOCRE on the whole.#GorillaFromToday #GorillaReview

— Review Ram (@MovieReviewRam) July 12, 2019
Tweet #3
#GorillaReview#Gorilla 1st half :-

"GORILLA GANG" Ultimate Comedy 😀 , Fabulous entertaining so far ...

Waiting for Second Half@Actorjiiva @All_In_Pictures @actorsathish @proyuvraaj @conzeptfilms pic.twitter.com/3o2Zv0jiKk

— ᏦᎾᏞᏞᎽfᎥᎬᎠ ™ (@Kollyfied) July 12, 2019
Tweet #4
After a long gap A Wholesome Entertainer ! Enjoyed a lot With the gang 😀 Don't Miss it , A Stress buster@Actorjiiva Is back & Lucky Arjun reddy girl @shalinipandeyyy make her winning debut in Kollywood too :)

— First Motion World (@1stMotionWorld) July 12, 2019
Tweet #5
#Gorilla 1st half :- "GORILLA GANG" Ultimate Comedy 😀 , Fabulous entertaining so far ... Interval block Super one..#GorillaGang #GorillaReview @Actorjiiva @All_In_Pictures @actorsathish @proyuvraaj @conzeptfilms

— Cinemapatti (@cinemapatti) July 12, 2019
Tweet #6
#Gorilla - Right from d title card to interval, d film is entertaining with freq witty 1 liners. Post interval, farmers issues r induced & make it feel dull. Jiiva s energetic. Gud music, has 1 nice song. Could hv used d Chimpanzee more, in a better way. Gud 1st hlf, Avg 2nd hlf!

— Christopher Kanagaraj (@Chrissuccess) July 12, 2019
Tweet #7
#Gorilla full entertainment 😍 Social message also 👍👍Voice over for farmers ! Really appreciable one . @Actorjiiva Thalaivaaaa u made it ❤ Background music score alot ! Climax scene robbers exit 👌vera level@shalinipandeyyy @DonSandyDir @SamCSmusic

— Sree Nandhu ツ (@nandhusnv) July 12, 2019
Watch the trailer of Gorilla here:
The music of Gorilla was composed by Sam C. S.; his notable works include Vikram Vedha, Adanga Maru and Ispade Rajavum Idhaya Raniyum. Produced under the banners of All In Pictures, this Tamil film has had average response from Kollywood fans. Today another Tamil film has released titled Gurkha. Well, we will have to wait and watch which one will perform will at the box office. Stay tuned for further updates!