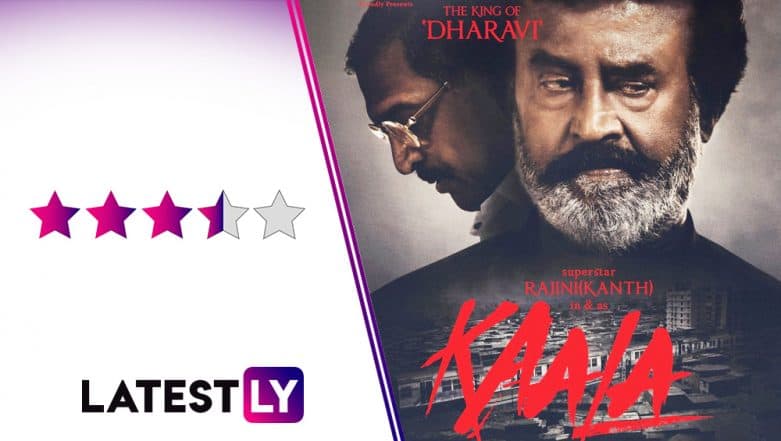 Being a massive Rajinikanth fan, Kaala was a very overwhelming film for me. So was Kabali and the ones that came before it but we'll stick to this one. Kaala is not your usual Rajinikanth film. Yes, there are a couple of cliched scenes that could fuel up the Rajinikanth jokes again but this one is far better. Thalaiva and Pa Ranjith must definitely make more movies together, But I'll make one thing very clear. Thalaiva is not the only reason for this film to be a success. Nana Patekar, Huma Qureshi, Anjali Patil, Easwari Rao and every actor involved in the film have contributed to it.
There is no OTT acting that Rajinikanth films are usually famous for. The problem is real, the feelings related to it are real. The movie has your complete attention from the beginning itself when they roll the credits. And it goes without saying that there will be a huge scream fest when Thalaiva's name appears on the big screen. Kaala starts with a narration about how land is something very important to mankind and there have been so many wars around it. Right from the Mahabharata to the British invading India, the makers have used all these references to show how important a piece of land can be to human beings.
I'm not going to give you any spoilers or talk about scenes you haven't already scene in the teaser or trailer. Hats off to Pa Ranjith for the wonderful direction. The end of the film is visually appealing and gives you the freedom to choose your own kind of ending. For me, personally, Easwari Rao was the star of the show. She plays Thalaiva's wife in the movie and their interactions with each other are so cute. And it's not some old guy romancing like a teenager. They play their age and so beautifully.
Huma's character and her relationship with Thalaiva in the movie might surprise you a little bit but she has done a brilliant job at it. Though we wish she was given a far more stronger role or a challenging scene to portray. And how do I even get started about Nana Patekar! The man blew my mind. I watched the film in Tamil but I really want to watch all Nana bits in Hindi. All the Hindi actors seem to have dubbed for their roles themselves and they have done a decent job at it.
Thalaiva and Nana's face off in the movie will give you goosebumps. Of course, there are scenes where Thalaiva is walking THROUGH FIRE without getting burnt even a little bit. There are a group of boys who rap and dance at every frigging occasion. Someone dies, they rap, someone is happy, they rap and dance, they even rap when they are sad.  The movie is a lot like Godfather. You'll find a lot of resemblance to the Marlon Brando-Al Pacino film.
Okay this might be a little bit of a spoiler but a harmless one. There is a scene at the end of the film where the Dharavi folks throw black paint and powder on each other to embrace the colour and what it represents. A lot of times, white is perceived to be the symbol of piece and cleanliness but this film proves otherwise. That whole scene is impacting and sends a very strong message about societal acceptance.
Yay!
- It's real and visually appealing
- Pa Ranjith's direction does it once again
- The overall performances are brilliant
- There are only few songs in the movie and they are beautiful. Kudos, Santosh Narayanan!
- It's worth watching more than just once
- The dialogues make you whistle and hoot
- Just when you predict the next move, the director surprises you with a completely different plot
Nay!
- The film lost 0.5 points rating in this review purely for the Thalaiva walking through fire scene
- The rap boys were kind of insignificant
- Huma should have been used to her full potential. She should have been given more challenging scenes
Final Thoughts!
Kaala seems like a mix of Baasha, Padayappa, Arunachalam and Kabali in a lot of scenes but it's completely worth it. Thalaiva and Easwari's chemistry is too cute to handle. They give such couple goals. Also, Nana, Anjali and Huma are one of the main reasons to watch the movie apart from Rajinikanth. Despite its cliches, Kaala is a complete entertainer.