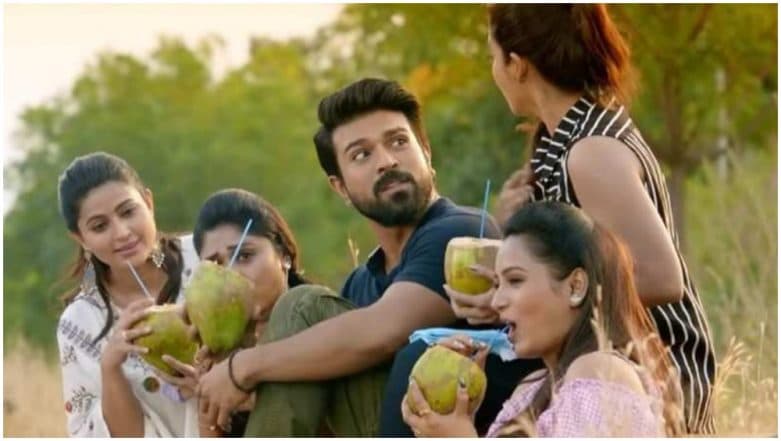 Vinaya Vidheya Rama is this week's big Telugu release, starring Ram Charan in the lead. The young Telugu superstar is having a great time at the box office, with his last film Rangasthalam doing tremendous business both in India and overseas, and even becoming one of the biggest hits in Telugu cinema. Therefore, expectations are high from his new film Vinaya Vidheya Rama at the box office. Vinaya Vidheya Rama Teaser: Ram Charan Takes On Vivek Oberoi in Mass Action Thriller - Watch Video.
The movie is directed by Boyapati Srinu. Kiara Advani is the female lead while Vivek Oberoi is playing the main baddie. Prashanth and Sneha also have important roles in the film. While Vinaya Vidheya Rama took off to a great start at the box office, the movie has been getting some very bad reviews. Critics have been unhappy with the done-to-death premise of the film that offers nothing new to the viewers and they have criticised Ram Charan for choosing this film after Rangasthalam. Movies This Week: Rajinikanth's Petta, Ajith's Viswasam, Vicky Kaushal's Uri, Anupam Kher's The Accidental Prime Minister, Ram Charan's Vinaya Vidheya Rama – Vote for Your Favourite.
Check out what some of the major publications have to say about Vinaya Vidheya Rama in their reviews.
The Times of India says, "Boyapati Srinu as a filmmaker has time and again excelled at building a perfect emotional context to his action sequences in films starring top stars. However, in the process of doing that, he's repeated himself way often and the tipping point comes in Vinaya Vidheya Rama, where Boyapati becomes a pale shadow of himself as a storyteller. The problem with Vinaya Vidheya Rama isn't the deja vu factor but the fact that the filmmaker takes the audiences and cinematic liberties for granted."
Watch the Trailer of Vinaya Vidheya Rama here -
Gulte says, "Boyapati Sreenu is known for making perfect masala potboilers, but his direction goes awry in this one. He is definitely not at his best while penning the script for VVR. He couldn't write a decent plot around the action scenes. He made sure to have every emotion in the narrative, but none could make an impact due to poor writing and execution."
Mirchi9 says, "Vinaya Vidheya Rama has a passable first half keeping the usual mass leniency in mind, but the second half derails in a disastrous fashion and with it takes down the entire movie. Even if you are a hardcore action movie lover Vinaya Vidheya Rama is a difficult pill to swallow."
The Hindu says, "VVR is a lot of fun in the later half because, by then if you're still inside the cinema hall, you want to see what else is in store. Whatever made Ram Charan sign up for this loud, mind-numbing film after Rangasthalam? The violence isn't a problem, but the way it's played out. You never know at what juncture a head will be tossed in the air or why and how someone will be killed."
Though critics are unhappy with Vinaya Vidheya Rama, we have to see over the weekend if Ram Charan's box office power manages to push the film to make it a success.