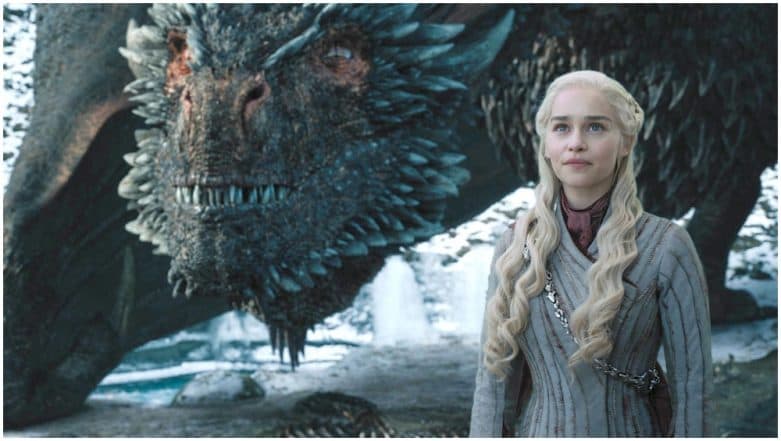 The nominations for Emmy Awards 2019 have been announced. The awards which celebrate the best in Television will be taking place on September 22. The nominations for this year's coveted honours have surprised everyone considering that HBO's Game Of Thrones bagged as many as 32 nominations which is the highest ever. It is surprising considering that the final season of the series was the most debated one. Fans, as well as critics, were highly disappointed with Season 8. Game Of Thrones stars, Emilia Clarke and Kit Harrington have received a nomination in the Best Actor and Actress in a Drama Series category. Other actors from the show such as Lena Headey, Sophie Turner, Maisie Williams and Gwendoline Christie have got a nomination in the Supporting Actress category for a Drama Series. Emmy Awards 2019 Complete Nominations List: Game Of Thrones Leads in Maximum Categories, HBO Mini-Series Chernobyl Too Competes for Big Honours.
Earlier we had also reported on how fans were unhappy with the choice of episodes chosen by the makers of the show for Emmy nominations and now fans are shocked to know that the despite all the flak it received, the show has become the most-nominated this year. In fact, despite all the negative reviews it received especially for its writing, the show has bagged a nomination in the Best Writing category. Twitter is currently abuzz with reactions for the recently announced, here's a few of them.
#Tweet1:
This calls into question everything about how nominations are done at @TheEmmys .#Gameofthrones S8 should not be on this list for Outstanding Drama https://t.co/OlY9GswTE1

— Jide Rotilu (@jiderotilu) July 16, 2019
#Tweet2:
When #gameofthrones is trending but it's not because they are remaking the last season pic.twitter.com/xCr4F7jx34

— Frankie Bordone (@FrankieBordone) July 16, 2019
#Tweet3:
The #Emmys are a fucking joke! Clearly a popularity contest! #GameofThrones receiving best drama series and writing nominations for that turd of a final series is a fucking disgrace! D&D fucked up! Boycotting Emmys!

— random dude (@randomdude582) July 16, 2019
#Tweet4:
Complaining about these nominations is silly and opens a huge can of worms, but Kit Harrington over Peter Dinklage in #GameofThrones is very incorrect https://t.co/ABuiKj0OIS

— Robert Bouffard (@robouf5) July 16, 2019
#Tweet5:
Everyone : When are we going to see truly deserving actors getting nominated ?

Emmy : pic.twitter.com/hT0v3OlIip

— Jitesh Rochlani (@jiteshrochlani) July 16, 2019
#Tweet6:
I know everything is subjective and I respect the opinion of people that think differently,but #GameofThrones shouldn't win any #Emmy trophies outside of the technical categories

The overall severe decline in writing just doesn't deserve any recognition,and maybe shouldn't

1/2

— Nerd by Nature (@Nerd_by_nature) July 16, 2019
What did you think about the Game Of Thrones nominations? Tell us in the comments below.