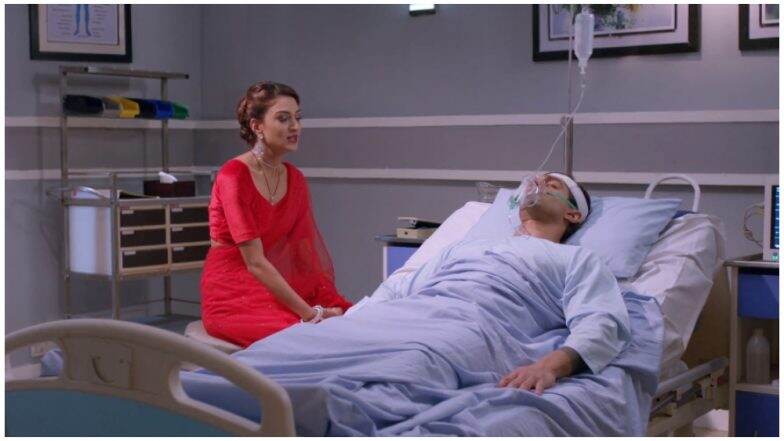 In yesterday's episode of Kasautii Zindagii Kay 2, we saw Prerna is baffled upon learning about Sharda's move against Veena. Elsewhere Mohini manages to find evidence against Sharda. Tonight's episode starts with Tanvi tells Sharda that Mohini will expose them. Sharda says not us but her only as she does not know that she is involved in this all. Sharda assures Tanvi no need to worry as she has come to know that Mohini also hates Prerna, so it will be easy for them to continue their plan. Sharda tells Tanvi that she should go to the hospital and be with Bajaj. Kasautii Zindagii Kay 2 August 21, 2019 Written Update Full Episode: Tanvi Tries to Poison Kuki's Mind against Prerna after Mr Bajaj's Accident.
In the hospital, Prerna (Erica Fernandes) goes to Bajaj's (Karan Singh Grover) room, and thinks she was so wrong about Mr Bajaj and that he just wanted to help Veena financial. Prerna gets emotional and says that she is sorry for her behaviour as she was thinking wrong about him. Prerna holds Bajaj's hand and tells him to get well soon. Tanvi watches them from outside the room and gets jealous. Kasautii Zindagii Kay 2 August 22, 2019 Written Update Full Episode: Prerna Finds Out about Mr Bajaj's Thoughtful Act towards Her Family and Feels Guilty.
Meanwhile, Tanvi calls Sharda and tells what she saw and says things are changing and that Prerna is having feelings for Bajaj now. Sharda says no need to worry and that everything will be fine. Sharda is worried as if Prerna will come and tell her to take the case back then what will she do and how will she handle the situation, just then Mohini comes and says if she was in her place then she would have not taken the case back and left Veena behind bars only.
Later, Prerna comes and asks why she blamed her mother for an attempt to murder Mr. Bajaj. Sharda acts as she was so tensed and did not know what do to and says that she cares for Bajaj. Sharda says when Bajaj will get conscious he will first lodge a complaint against Veena as he does not have control in his anger. Sharda tells that she will hire an advocate who will save Veena from this case but if Bajaj wants to punish Veena than no one can stop him. Prerna says she cannot see her mother in the court or in jail. Sharda says if she says then she will take back the case. Just then Kuki comes and hugs Prerna, Sharda tells her to make her sleep. Sharda tells that she will give her best lawyers number so that Veena will be released soon.
In the hospital, Tanvi wipes Bajaj's hand as Prerna touched him and says that she loves him and that he married Prerna to help her and nothing else. The doctor comes and asks did Bajaj got conscious, Tanvi says no. The doctor says that he will get conscious of any moment and leaves. Tanvi comes close to Bajaj and says that he is the door of her luxurious life and request him not to die and leaves from there.
In the precap, Anurag comes to release Veena from the jail. Later Anurag goes to Prerna and tells her to asks Bajaj to free Veena from the jail then she will come to know what is her place in his life.