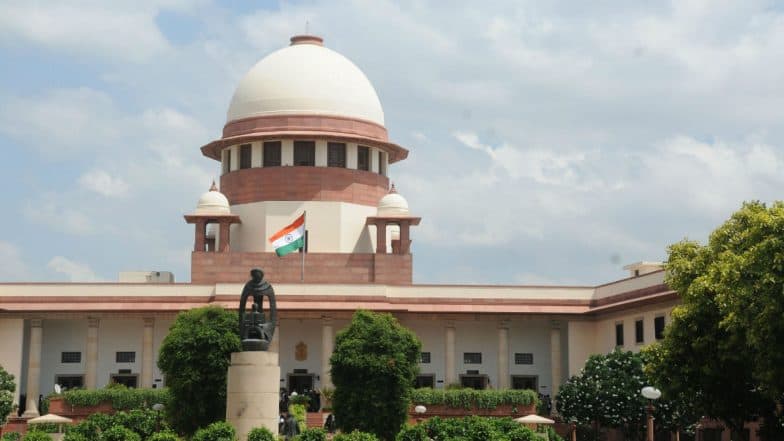 New Delhi, October 7: The Supreme Court has taken suo moto cognizance of the axing of trees in North Mumbai's Aarey colony and has constituted a Special Bench to hear the matter today. A notice was posted on the apex court's website, stating that the case would be heard on Monday morning at 10:00 am. The Special Bench will be constituted for the hearing as the judges are on leave from October 7-12 to mark the Dussehra holidays. Aarey Colony Row: Bail Granted to 29 Activists Arrested For Protesting Against Felling of Trees.
The top court's intervention came hours after a delegation of students dispatched a letter to the Chief Justice of India, Ranjan Gogoi, seeking his immediate attention towards the massive felling of trees underway in Aarey Colony -- the "sole green lung" of Mumbai city.
"As we write this letter to you the Mumbai Authorities continue to kill the lungs of Mumbai, that is, Aarey Forest by clearing of trees near Mithi river bank and according to news reports 1,500 trees have already been cleared by the authorities," reads the letter dated October 6 to the CJI.
The signatory to the letter is Rishav Ranjan, a law student of Lloyd Law College, Greater Noida, who is representing the delegation.
Update by ANI:
A delegation of students had written a letter to the Chief Justice of India earlier today, 'requesting SC to take cognizance in Mumbai's #Aarey matter, for stay in Tree-Axing undertaken by Municipal Corporation of Greater Mumbai with Mumbai Metro Rail Corporation & Mumbai Police' https://t.co/sHsL7st4Lm

— ANI (@ANI) October 6, 2019
Earlier, the Bombay High Court turned down the pleas filed by activists seeking a stay on the Mumbai civic body's decision to allow the Metro Rail Corporation to axe out 2,700 trees for the proposed Metro car shade.
The court was convinced by the government's step to plant several saplings in place of each axed tree. Further, the bench observed that the Metro 3 project, once operational, would significantly cut down the carbon emissions released into the city's atmosphere on daily basis.