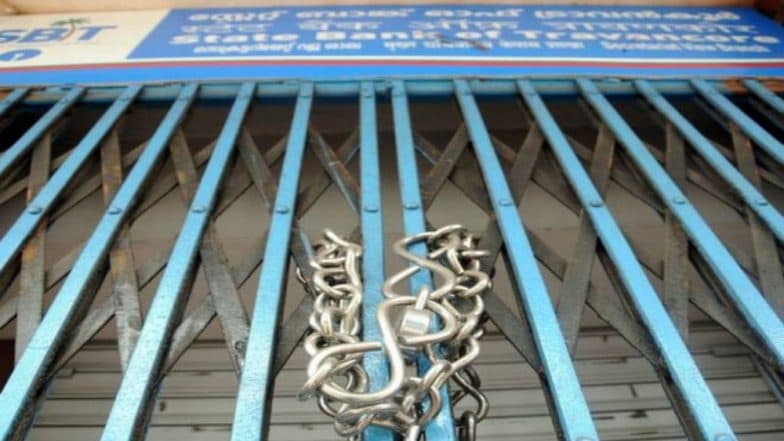 New Delhi, September 23: Banks are bracing up to face a huge rush for the next three days as employees of state run banks have called for a two day strike on September 26 and 27. Reports inform that nearly four lakh bank employees across the country are set to protest against the merger of public sector banks. Most bank branches in India would be closed for four consecutive days from September 26 to 29. This means, the bank branches will remain open only for three days this week, i.e. from Monday to Wednesday. The four-day-long bank holiday is likely to affect banking operations as September 30 will be the next working day for the banks after September 25.
As banks will remain closed for four consecutive days, cheque clearances and ATM services are likely to get affected due to the bank strike followed by two consecutive weekly offs. People are likely to be queued up at bank branches across the country to withdraw money as a large number of ATMs may turn dry during the four days. Check Full List of Bank Mergers Announced by Finance Minister Nirmala Sitharaman.
September 26 and 27- Bank Strike for two days

September 28- Banks shut on account of fourth Saturday

September 29- Sunday
Reports inform that the strike has been called by four bank unions- All India Bank Officer's Confederation (AIBOC), the All India Bank Officer's Association (AIBOA), the Indian National Bank Officer's Congress (INBOC) and the National Organisation of Bank Officers (NOBO). During the strike, Rs. 48,000 crore worth of transactions will be affected in one single day, reports said.
When is the Bank Strike in September 2019
The two-day bank strike will begin from midnight of September 25, 2019 to midnight of September 27, 2019, the Bank Employees Federation Of India (BEFI) said in a statement. R Sekaran, Secretary of All India Bank Officers' Confederation's (AIBOC) of the Tamil Nadu unit was quoted by ANI saying that four lakh banking personnel will participate in the strike due to which  transactions worth Rs 48,000 crore per day will be affected.
Why Have Banks Called for the Strike 
Over four lakh bank employees across India will be a a part of the two-day strike on September 26 and 27. The strike has been called by the employees to protest against the announced consolidation of 10 state-run lenders into four and over the recent amalgamations in the banking sector.
NEFT and RTGS Transactions
Individuals may not face inconvenience in banking operations even during strike once NEFT and RTGS payment system becomes a 24x7 operations from December.  Currently, NEFT and RTGS services are available only from 8 am to 7 pm on all working days, except the second and the fourth Saturday of the month.
Union Finance Minister Nirmala Sitharaman on August 30 had announced four mergers of banks. This resulted in just 12 public sector banks in the system instead of the previously existing 27. Reports inform that the demands of the unions include immediate introduction of five-day week in full, reduction of cash transaction hours and regulated working hours among other demands.
According to a reports, the employees of the state-run banks have also demanded scrapping of NPS, to halt of undue interference in the existing procedure of vigilance cases by outside agencies, settlement of issues pertaining to retirees, adequate recruitment, reduction of service charges for consumers and harassing of officers under specious plea of non-performance.