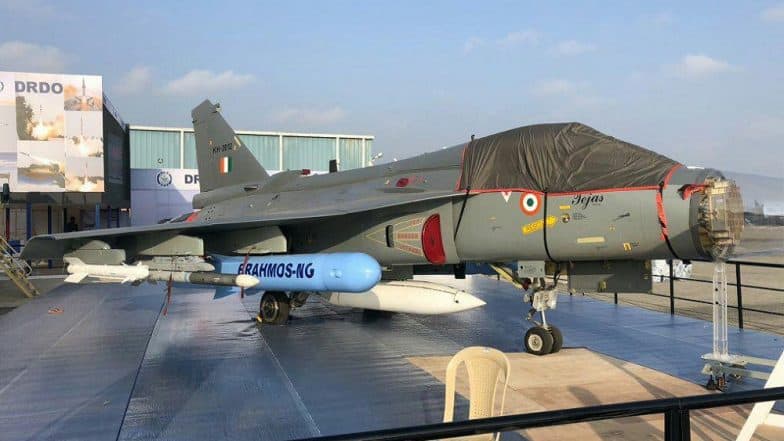 New Delhi, March 12: With an aim to boost air power of the Indian Air Force (IAF), the lighter version of BrahMos missile will be integrated with frontline fighter jets Su-30 MKI, reported The Financial Express. The lethal version of BrahMos missile is named as BrahMos NG (Next Generation). This missile will meet the future requirement of the IAF. This missile will be first fitted with the indigenous built light combat aircraft (LCA) Tejas before integrating them with Su-30 MKI's.
According to the report, the IAF is planning to integrate up to five such next-generation missiles on the frontline fighter jets. Meanwhile, during the Aero India Show which took place last month in Bengaluru, two dummy version of the BrahMos-NG fitted with Tejas were showcased. The upgraded version of BrahMos is expected to be tested in three years. BrahMos-The Supersonic Cruise Missile Successfully Test-Fired From Pokhran in Rajasthan
BrahMos NG will be capable of hitting targets at a distance of 300 km. The new version of the missile will weigh 1.5 tonnes and will fly at a speed of 3.5 Mach (almost 4,300 kilometres per hour) instead of the current 2.8 Mach. BrahMos missile s a joint venture between the Russian Federation's NPO Mashinostroyeniya and India's Defence Research and Development Organisation (DRDO). It is named after named after Brahmaputra and Moskva rivers. The land and sea variants of BrahMos are already operational with the Army and Navy.