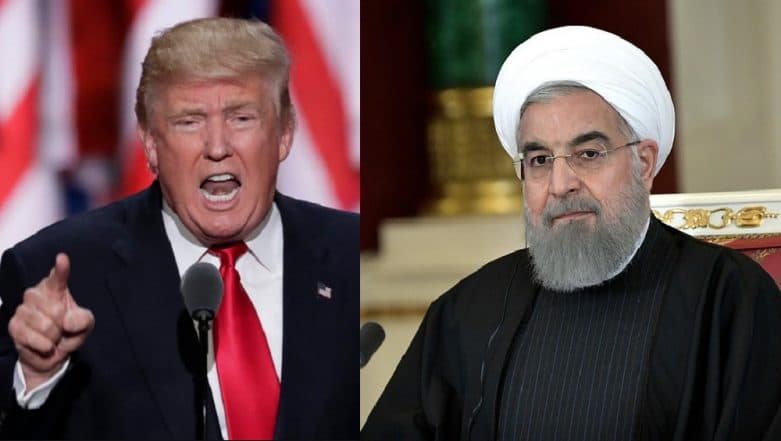 Washington, November 2: US President Donald Trump on Friday re-imposed sanctions on Iran that were lifted under the 2015 nuclear deal. ""On November 5th, the United States will reimpose sanctions that were lifted as part of the nuclear deal on Iran's energy, shipbuilding, shipping and banking sectors. These sanctions hit at core areas of Iran's economy. They are necessary to spur changes we seek on the part of the regime," US Secretary of State Mike Pompeo told AFP.
Under the Obama-era nuclear deal, formally known as the Joint Comprehensive Plan of Action, Iran agreed to curb its nuclear program. In return, the United States agreed to lift nuclear-related sanctions on Iran. Since becoming the President, Trump has been taking a staunch stand on Iran's nuclear programmes. Trump has previously said "the United States will withdraw" if the "deal's disastrous flaws" are not resolved. H-1B Visa: US Makes it Tougher For Companies to Employ Fresh Foreign Workers, Indian Techies to be Hit.
The United States declared the sanctions on Iran's shipping, financial and energy sectors. The sanctions were slapped on Iran targeting the crude oil export of the country. President Donald Trump's administration will also penalise countries for importing oil and foreign companies that do business with certain Iranian entities. Terming the 2015 deal as the "disastrous", the Trump administration warned about "severe consequences" for those who attempt to violate or circumvent the imposed sanctions.
The US also agreed to temporarily allow eight countries to continue buying Iranian oil. India is one of the countries expected to get the exemptions. According to reports, South Korea, Japan, Turkey and India are among the eight selected countries that will get a waiver on US sanctions against Iran. The list of these exemptions would be announced on Monday, Pompeo told reporters during a conference call on Iranian sanctions, with US Treasury Secretary Steven Mnuchin.
While the US had previously wanted countries including India to completely halt oil purchases from Iran by November 4 when its full sanctions against Tehran come into force, it seems to have relented considering the havoc the move to completely take out Iranian supplies from the market would have had on prices. (With agency inputs)