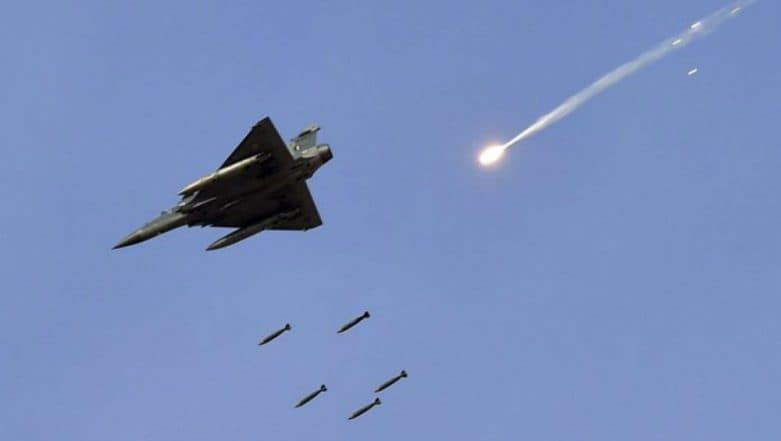 New Delhi, March 13: A fortnight after the aerial dogfight between the Indian and Pakistani side - first time since the 1971 Indo-Pak war - the threat of further escalation has not subsided. In what could be a signal of provocation from across the border, two Pakistani Air Force (PAF) jets flew close to the Line of Control (LoC) last night, reports said on Wednesday attributing government sources.
"The Indian Air Defence radars detected two PAF jets going supersonic 10KM from LoC (within their territory) in the Poonch sector," news agency ANI reported, adding that loud bangs were also heard due to the sonic booms. Photo of Wreckage of Pakistani F-16 Jet Shot Down by India's MiG-21 Is Out.
All Indian air defences and radar systems were put on high alert following the detection of PAF jets close to the border.
The incident comes days after Pakistan expressed its will to de-escalate the tensions with India, and released captured IAF Wing Commander Abhinandan Varthaman as a "gesture of peace".
India, however, has remained rigid on its stand of entering into no dialogue with Pakistan till it takes "meaningful action" against the terror infrastructure on its soil.
The fresh round of escalation between India and Pakistan was sparked by the militant attack in Pulwama, which claimed the lives of 40 Indian security personnel.
Pakistan-based Jaish-e-Mohammed (JeM) claimed responsibility for the fatal attack, calling it as an act of revenge against the alleged atrocities being committed against the civilians in Kashmir. Islamabad, however, has denied JeM's role, claiming that no group operating on its soil is involved in the heinous attack.