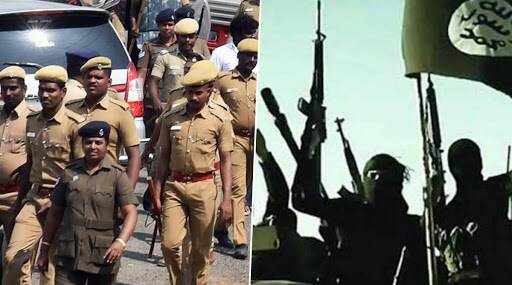 Chennai, January 23: The Ramanathapuram Police in Tamil Nadu informed on Wednesday that they had filed an FIR against four people under Unlawful Activities (Prevention) Act for allegedly raising funds and recruiting for ISIS. These four people are also being sued under the I-T Act for allegedly spreading extremist ideas among the villagers through WhatsApp. Till now three have been arrested.
According to a report, telecast on News 18, the police have registered a case against four people in Ramanathapuram under UAPA, alleging that these people were ISIS recruiters and were raising funds for the terror outfit. Also, investigation has been launched to find out the possible relationship between the arrested men and the ongoing probe of SSI Wilson murder case. Hizbul Mujahideen Terrorist Arrested With Davinder Singh Planned Terror Attacks in Kashmir Ahead of Republic Day 2020: Report.
Police have rounded up three of the four booked men in the UAPA case, and informed that the fourth person is on the run. Police suspect that the fourth person could be the main accused behind recruiting youth for ISIS and might have funded the terror outfit. Apart from this, police state that the fourth person has sent funds to the two accused who are in police custody in connection with the murder of SSI Wilson murder case. Police claim to have audio proof of the telephonic conversation between the accused.
It is to be known that Special Sub Inspector Wilson was shot dead at a security check post in Kanayakumari on January 8. Following this, a joint team of Kerala, Tamil Nadu and Karnataka Police launched a probe based on CCTV footage. The two accused were arrested in Udupi district of Karnataka who revealed that they were funded by the fourth person to recruit the youth for ISIS. Meanwhile, the case is underway.