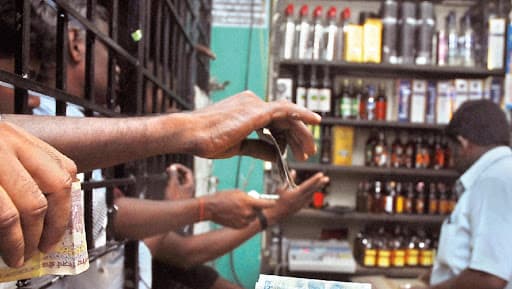 Hyderabad, December 17: K Chandrashekar Rao-led Telangana Rashtra Samithi government on Monday raised the price of alcohol in state and imposed an additional excise duty of 10 percent to generate additional revenue of Rs 3,600 crore. The state government aims to generate some revenues, after a reported sharp fall in devolution of funds from the Centre.
According to a report, published in the Hindustan Times, the new rates will be in effect from Tuesday onwards. Due to the additional excise duty, now the beer would cost Rs 20 more, while the prices of hard liquor will shoot up by Rs 10 for 60 ml to Rs 80 for a 750 ml bottle. Apart from this, foreign liquor would be priced Rs 150 for a full bottle. The instructions to rise the prices was issued by Telangana State Beverages Corporation Limited, which the premier agency for supply of liquor to liquor depots from where wine shop owners buy their stock. Andhra Pradesh Inching Towards Liquor Prohibition, 40% Bars to Be Shut Down by Jagan Mohan Reddy Government.
Speaking on anonymity, an excise department official stated that state government is expecting to garner an additional revenue of Rs 300 crore per month, adding upto Rs 3,600 crore per year. With this move, the TRS government is aiming to generate around Rs 1000 crore in the three and a half months -- left in the current financial year.
Earlier in the 2019-20 budgetary estimates, the expectation of state government reached new level where it aimed to generate Rs 10,901 crore through state excise duty on liquor. Also, state value added tax (VAT) on alcohol would add another Rs 9,173 crore. So in total, the state government is projecting a revenue generation of Rs 20,074 crore from alcohol sales this year.
Apart from this, those 45,000 applicants seeking licenses for running 2,216 retail liquor shops across the state, will have to pay non-refundable deposit of Rs 2 lakh each -- leading to the generation of more than Rs Rs 900 crore in state exchequer's kitty. Currently, 1400 bars in the state pay a license fee of Rs 40 lakh from each bar, which adds another Rs 560 crore. In totality, the state government is aiming to generate revenue of around Rs 25,000 crore after imposition of additional excise duty. Andhra Pradesh to Turn Dry State: CM-Designate Jagan Mohan Reddy Plans Phase-Wise Ban on Liquor.
Stating the reason for increasing the excise duty of 10 percent on liquor, official release from the chief minister's office had said that Central funds declined by 15 percent, which meant a decrease of Rs 2,957 crore. CM had even written to the Union Finance Minsiter Nirmala Sitharaman and request expeditious release of Rs 4,531 crore of GST dues from the Centre. However, Centre had released an amount of Rs 1,026 crore towards GST arrears.