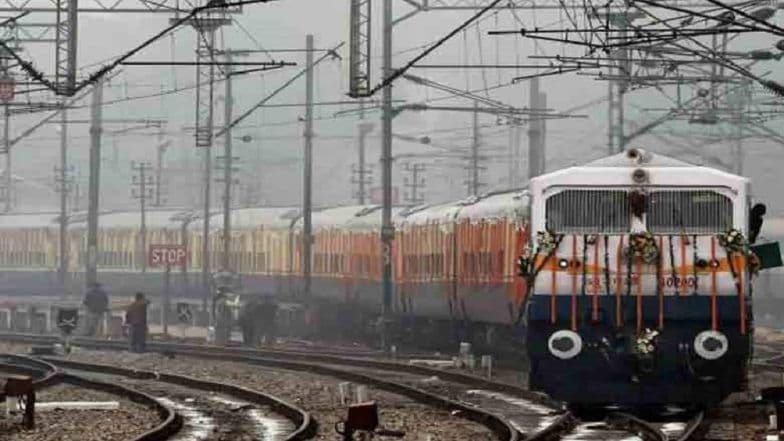 New Delhi, August 19: Several trains were cancelled and diverted on Monday as floods triggered by incessent rains have ravaged Railway line in various parts of Punjab. The Northern Railway issued a statement informing the passengers about the status of the trains which are set to pass through the rain-ravaged routes.
While some of the express trains have been cancelled, others have been diverted or rerouted in order to avoid areas which have been hit by deluge. The list also includes trains passing through the flood-affected parts of Uttarakhand, where 17 deaths have been recorded so far. Mumbai-Pune Route Trains to Resume Today After Heavy Rains And Landslides Disrupted Services
Full List of Trains Cancelled and Diverted Due to Rains in North India:
Deepak Kumar, Chief Public Relations Officer, Northern Railway: Due to operational reasons the following trains have been cancelled/diverted as under today - pic.twitter.com/r2ivS86YLN

— ANI (@ANI) August 19, 2019
While Himachal Pradesh and Uttarakhand have been devastated due to cloudbursts combined with heavy to heavy rainfall, the disaster in Punjab was exacerbated through the discharge of nearly 2,00,000 cusecs of water into the Satluj river from the Ropar headworks.
Nearly 250 villages in Punjab have been affected due to the floods, with the administration shifting people residing close to Satluj banks to safer places. A total of eight districts - Ropar, Nawanshahr, Jalandhar, Kapurthala, Ludhiana, Tarn Taran, Moga and Ferozepur - have been hit by the deluge. Chief Minister Capt Amarinder Singh has announced Rs 100 crore for emergency relief and rehabilitation measures.