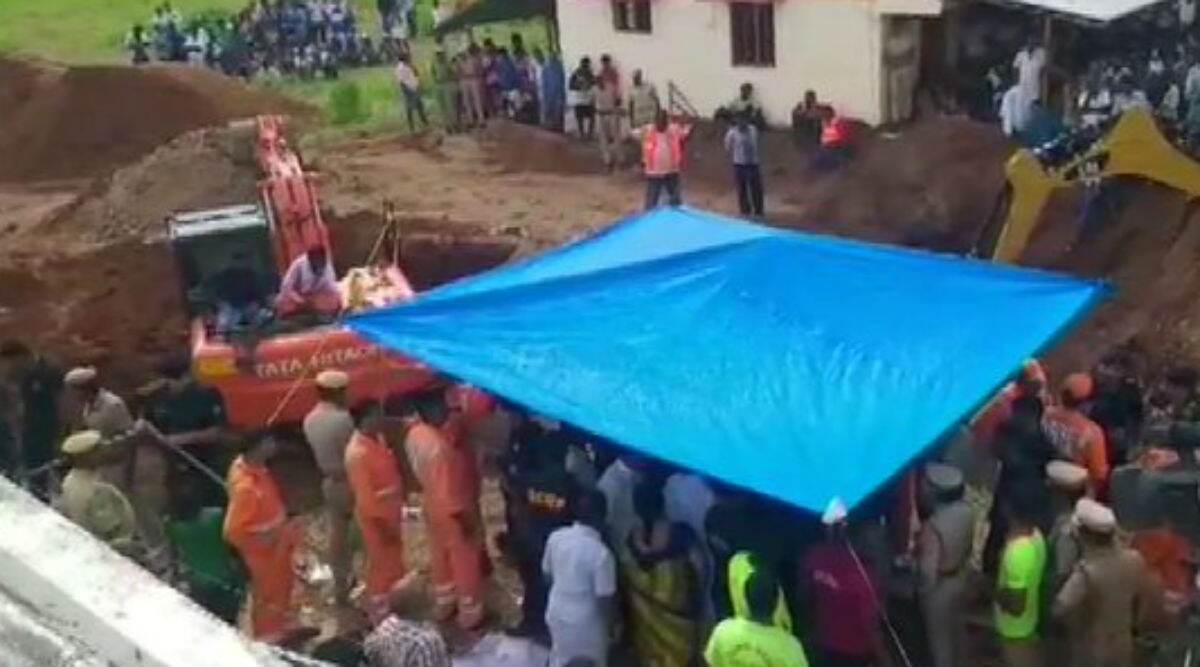 Chennai, October 27: The rescue operations to save the two-year-old boy -- Sujith Wilson -- stuck in a 25-foot-deep borewell are in full swing in Tamil Nadu's Tiruchirappalli district and continued late into Saturday night as well. A team of National Disaster Response Force (NDRF), along with the state machineries are trying their best to rescue the toddler who fell in the borewell on Friday at 5:30 pm, while he was playing outside his house at Nadukattupatti. Tamil Nadu: 2-Year-Old Sujith Wilson Falls into 25-Feet Deep Borewell, Rescue Ops Underway in Nadukattupatti.
As per the initial reports, the boy slipped down further to 70 feet, due to which earthmoving equipment was stopped midway as the terrain was rocky.
Watch Live Streaming of Rescue Operation in Tamil Nadu:
The NDRF personnel are even supplying the juice for the child who is stuck in the tunnel for over 20 hours. Following the reports of the toddler stuck in inside the borewell, locals rushed to the spot and started lending their hands for the rescue mission. Even emergency service reached the spot and doctors are monitoring the situation. The most surprising issue that nobody can assure how deep the borewell is. Apart from this, Madurai-based plumber, whose robotic innovation had helped rescue a trapped child, is also at the spot.
According to inputs, a total of 70 members from NDRF and SDRF personnel are deployed in the rescue mission.  The teams even used a special equipment 'borewell robot', but that too was not successful. Official state that the accident is unique as the boy is stuck in a small diameter hole, unlike other disasters. Meanwhile, people are offering prayers for the safety of the toddler.
Informing more about the rescue information, Tamil Nadu health minister C Vijayabaskar said, "Sujith was trapped at a depth of about 26 feet and was responding to calls. Initially, one of his hands was knotted using a rope sent through a pipe, and he remained in a depth of 26 feet. Attempts to knot the other hand too and pull him up slipped in the last moment." Earlier in a similar incident, the two-year-old boy Fatehveer Singh stuck in a 150-foot-deep borewell in Punjab. Though the National Disaster Response Force (NDRF) teams pushed all their energy and manpower, they could not save the toddler.