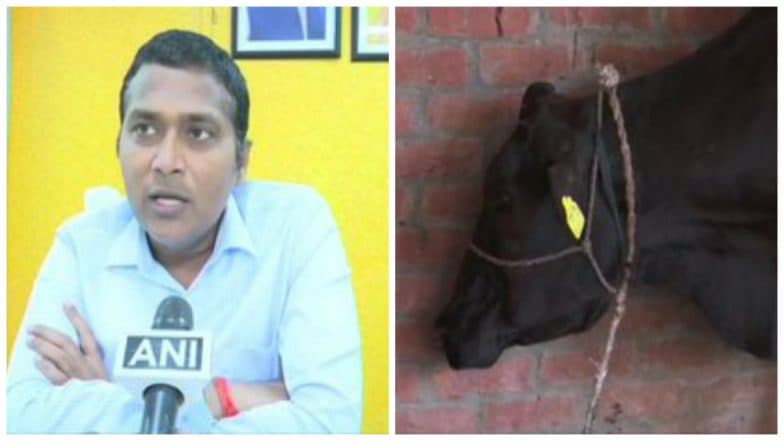 Gorakhpur, August 20: Gorakhpur Municipal Commissioner Anjani Kumar Singh informed on Tuesday that cattle in and around the area are being "geo-tagged". The officer said that the step was taken to identify the owner of cattle roaming free on the roads. Henceforth, if a geo-tagged animal is found  disrupting the traffic on the streets, the owner will be penalised, he added. Uttar Pradesh: Farmers in Agra Lock Up Stray Cows in Government Schools.
The geo-tagging process has been done to also keep a count of cattle in the area, said the officer. The step was taken after there were several complaints made by residents about the cattle menace on streets and roads. Uttar Pradesh CM Yogi Adityanath Instructs Officials to 'Ensure Shelter for Stray Cows'.
Read the Tweet And See the Pictures in the Tweet Below
Gorakhpur Municipal Commissioner Anjani Kumar Singh: Have started geo-tagging of cattle as there were several complaints regarding traffic issues due to abandoned cattle wandering on roads. pic.twitter.com/W7GKoDXY2V

— ANI UP (@ANINewsUP) August 20, 2019
The issue of stray cattle had also cropped up during the Lok Sabha Elections 2019, not just in Gorakhpur but all of Uttar Pradesh. Farmers had also protested at several places and demanded that the Yogi Adityanath government take measures to prevent stray cattle from damaging the crops. UP: Yogi Holds Meeting with Officials to Combat Menace of Stray Cattle.
Uttar Pradesh chief minister Yogi Adityanath, who represented the Gorakhpur Lok Sabha constituency for close to two decades, had assured the farmers of action and also taken decisions for the same, sensing that the issue was getting out of hand, especially with the poll season around. The BJP won handsomely in the 2019 Lok Sabha polls in Uttar Pradesh. The current MP from Gorakhpur is popular Bhojpuri actor turned politician Ravi Kishan.