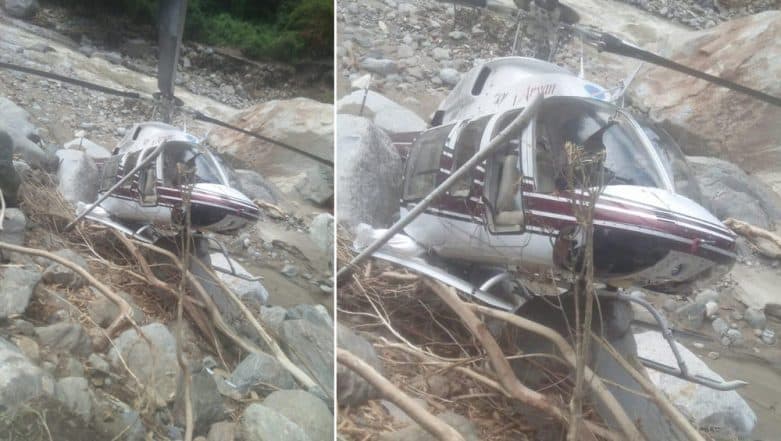 Dehradun, August 23: In a tragic accident, a relief helicopter crashed in Tikochi area near cloudburst-hit Arakot region in Uttarakhand on Friday. The people on board including Pilot and Co-pilot have sustained minor injuries.  According to a tweet by ANI, Uttarkashi District Magistrate Ashish Chauhan confirmed the incident and said that a helicopter has crashed in Arakot in Uttarkashi region. Uttarkashi has been badly affected with incessant rains. Restoration of damaged roads in the rain-hit district has been taken up on priority.
Earlier this week, a helicopter engaged in relief and rescue operations in the rain-ravaged Uttarkashi district crashed. Three people were killed on board including two crew members. According to reports, the helicopter crashed when it was returning after distributing relief materials among the affected people.
According to reports, the aircraft crashed near Moldi in the rain-hit Uttarkashi district after getting entangled in cables, Uttarakhand's Director General of Police (Law and Order) Ashok Kumar informed. The pilot, co-pilot and a local were killed in the crash, he said.  Six People Die Due to Cloudburst in Himachal Pradesh.
Earlier this week, the network of roads in Mori block of the district was hit by cloudbursts and landslides, triggered by heavy rainfall on August 18, which left 16 dead and six missing.