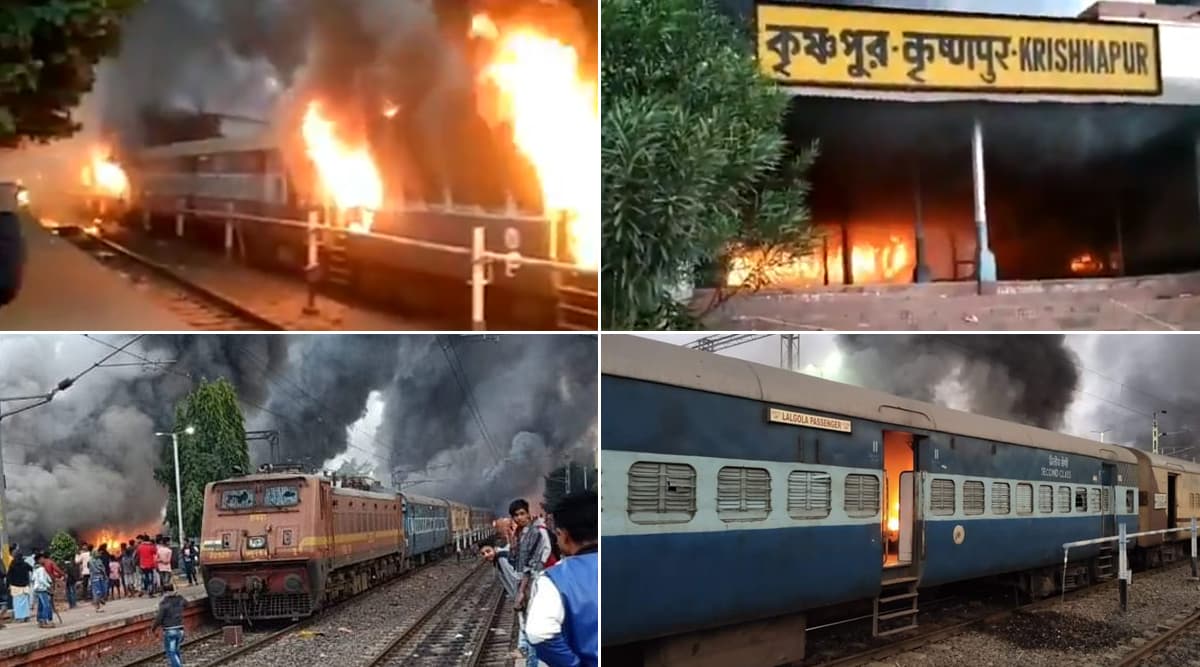 Kolkata, December 15: At least five empty trains were torched by angry protestors at the Lalgola railway station in West Bengal's Murshidabad district on Friday, December 14. The violent agitations rattled the state over the contentious Citizenship Amendment Act even after Chief Minister Mamata Banerjee warned of strict action. A portion of the Sankrail railway station complex in Howrah was also set ablaze by protesters. Anti-CAB Protests Turn Violent in West Bengal, 5 Empty Trains Set on Fire in Murshidabad District.
In West Bengal, demonstrators largely targeted railway properties in Murshidabad, Howrah and Malda districts. According to reports, public property worth crores have been destroyed or looted. Several videos of the incident are going viral on the internet. Mamata Banerjee Appeals For Calm as Citizens Hit The Streets Against CAB-NRC, Assures 'No Implementation in West Bengal'.
Trains Torched Up in West Bengal:
Visuals from the Krishnapur railway station near Lalgola, WB, where several standing trains have reportedly been set on fire by a jihadi mob. Reminds you of something? pic.twitter.com/zC2TgrwUW0

— ShankhNaad (@ShankhNaad) December 14, 2019
#VIDEO | Trains set on fire by anti-#CitizenshipAct protestors at Murshidabad, West Bengal. Watch video pic.twitter.com/n9CaXOtciw

— Arun Gangwar (@AG_Journalist) December 14, 2019
Hajarduari Express set on fire in Krishnapur, #Murshidabad. People of #Bengal don't endorse this kind of violence and hooliganism in the name of Protest and Religionalism. @WBPolice @MamataOfficial should take strong action against those involved.#CitizenshipAct pic.twitter.com/DgLh2Hu8V8

— Mayukh Ranjan Ghosh (@mayukhrghosh) December 14, 2019
In name of #CABProtests , #Bengal is allowed to burn, literally. pic.twitter.com/MpvIY28u3z

— Anindya (@AninBanerjee) December 13, 2019
Murshidabad: Several trains that were static at the Krishnapur railway station near Lalgola have been set on fire by anti-CAB protesters pic.twitter.com/zMEIrCRgVz

— Indrojit | ইন্দ্রজিৎ (@iindrojit) December 14, 2019
The protests also affected the rail movement. Over 78 trains were cancelled by the South Eastern Railway, while 39 trains were rescheduled or diverted. Demonstrators also torched around 15 buses—including three state buses—and blocked traffic at various locations.
Except for West Bengal, the situation in the Northeast and other states remained fairly calm. In Guwahati and, which show 'violent' protests over the new citizenship law, administration briefly lifted the curfew. But the internet services were suspended till December 16.
The Amended Citizenship Act intends to make it easier for non-Muslim migrants from Pakistan, Afghanistan and Pakistan to obtain Indian citizenship who entered India till December 31, 2014. The opposition parties, however, accused the law of being discriminatory and violation right to equality.